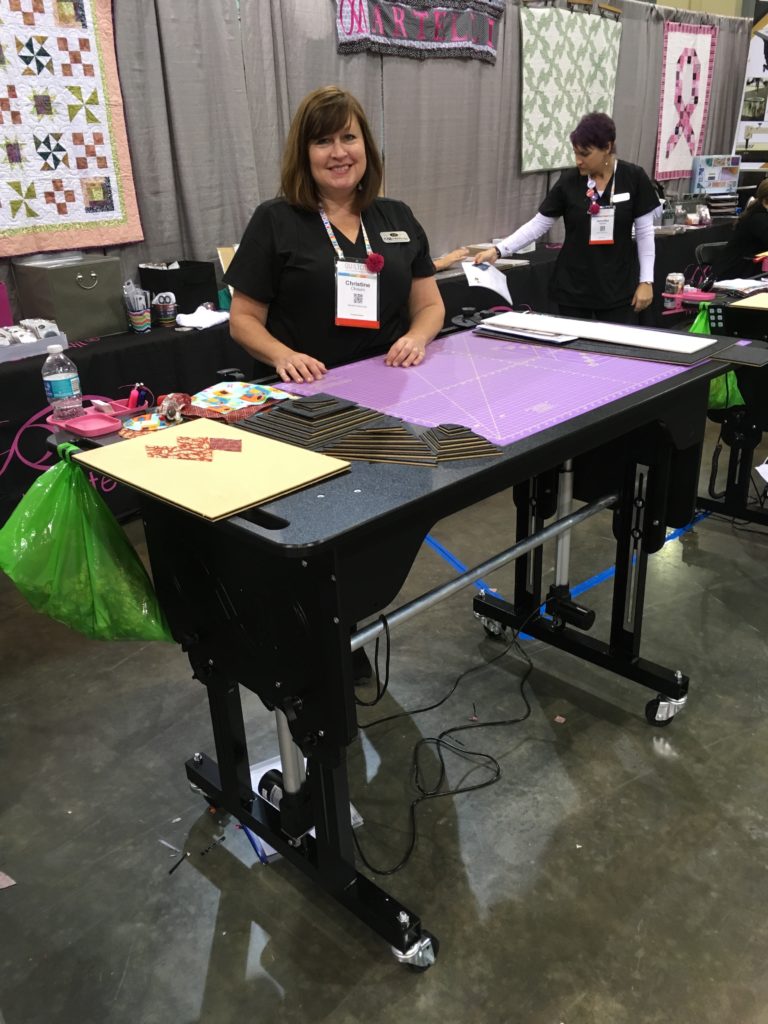 When I bought my Martelli Workstation at QuiltCon I wanted to take a picture of it to show my husband what I had just bought. When I composed the picture Christine started to move away. I guess she assumed I wanted the table all by itself. However, I asked her to remain in the picture because I wanted my husband to see the pretty lady who sold me the table. At that point I was still thinking of it as a table that had the added benefit of going up and down. I didn't even realize that I had bought myself a complete cutting system. Christine was nice enough to pose for me. She had a nice big smile on her face. I'd be smiling too if I had just made a nearly $3.000.00 sale. That is expensive for a table, but these units are much more expensive on the website, and they don't come standard with so many accessories on the website either. The event price was $2,500.00, plus it came with many accessories. In addition to that I was allowed to order things from the catalogue at 50% off at the time of purchase, so naturally I did add a few things to my purchase. Georgia got sales tax, ouch, so that brought the price up too.
Once I got home from QuiltCon I visited the Martelli web site and watched videos about the cutting system and the table. After that I had an idea of what I had gotten myself into. I knew I was in for a learning curve on the cutting system, but I resolved the get up to speed once my table was assembled. I didn't need to wait too long for the table to arrive. Delivery was supposed to take place within four to six weeks, but my table was in the house within two weeks, and waiting to be assembled. It, and I, patiently waited a few more days for my husband to be ready to work with me to put it together.
Here are the boxes hanging out just inside our living room door.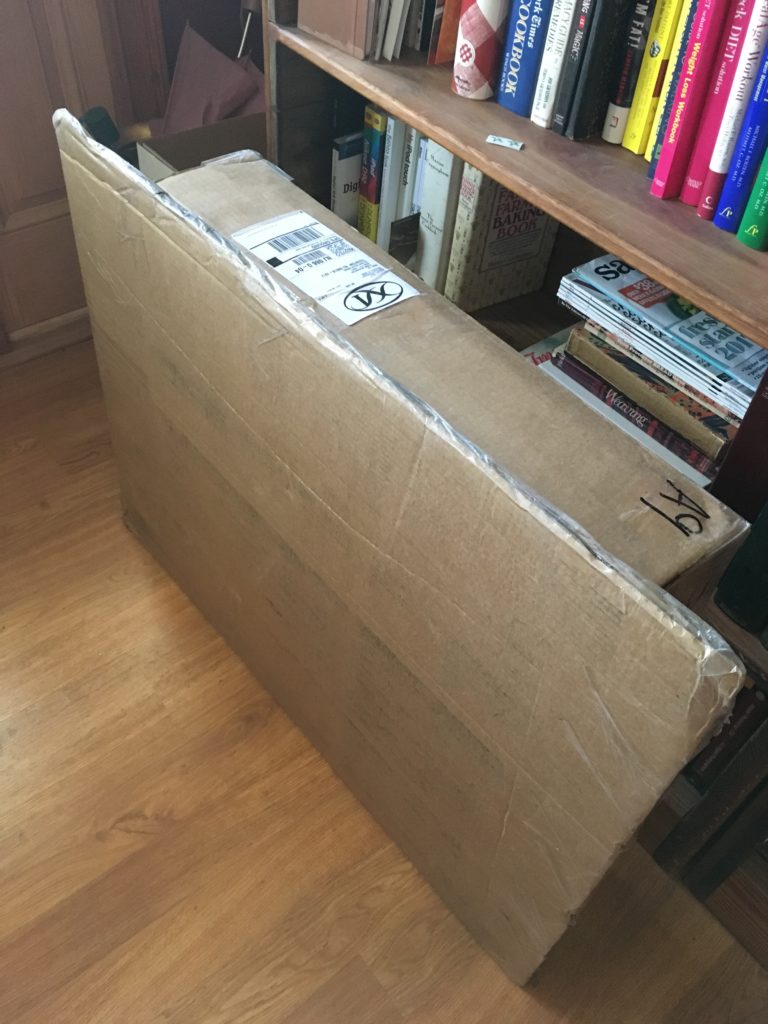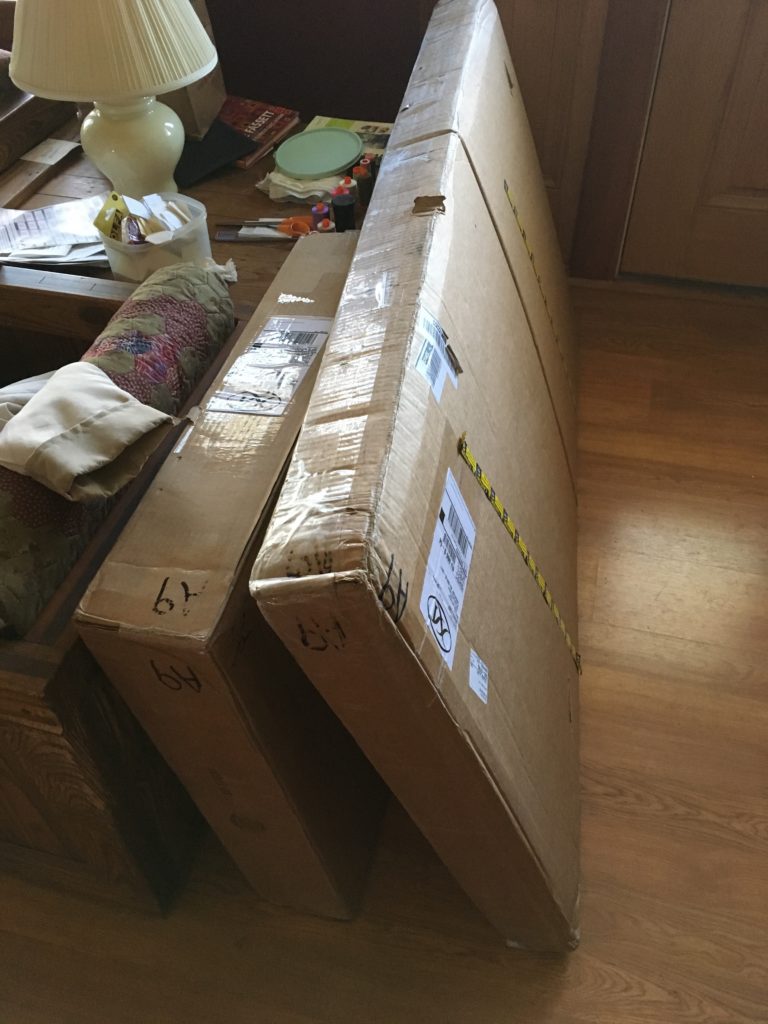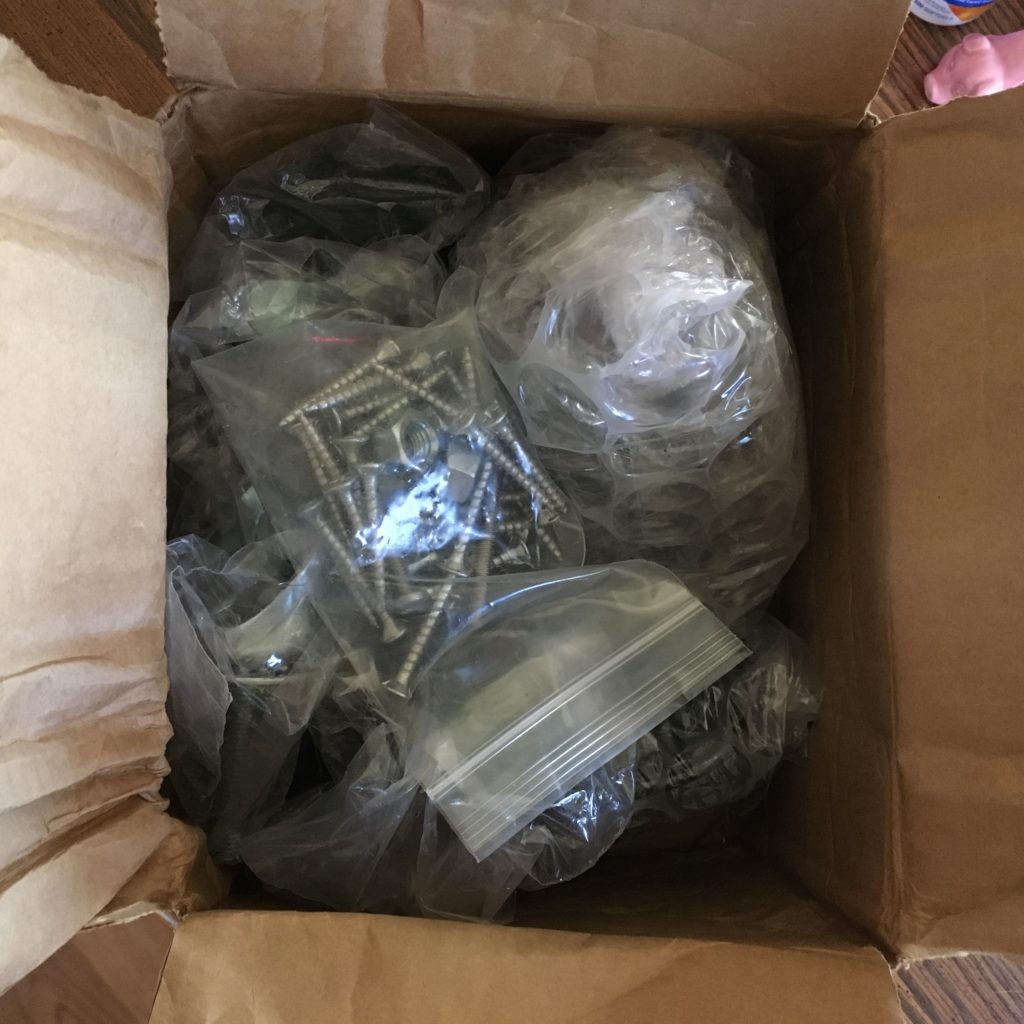 The first thing my husband wanted to do was to look at the directions. I found him a video that describes how the table is assembled. In the video someone points to various parts of the table and describs what needs to be done to achieve assembly. It is a short video, but it gives you an idea of what needs to be done. There were a number of boxes to cart upstairs and open, so we decided that we should try to figure out what box had the directions inside. We ended up calling Martelli for that information, and they were able to tell us which box to open first.
We took our sweet time with assembly and cleaned up after ourselves as we went. We took three days because we are old and weak, but a young whipersnaper could probably put that table together in a couple hours if they stayed on task. I think I could put together another table with confidence having done it once already.
I wish I had taken photos of the steps, but I didn't.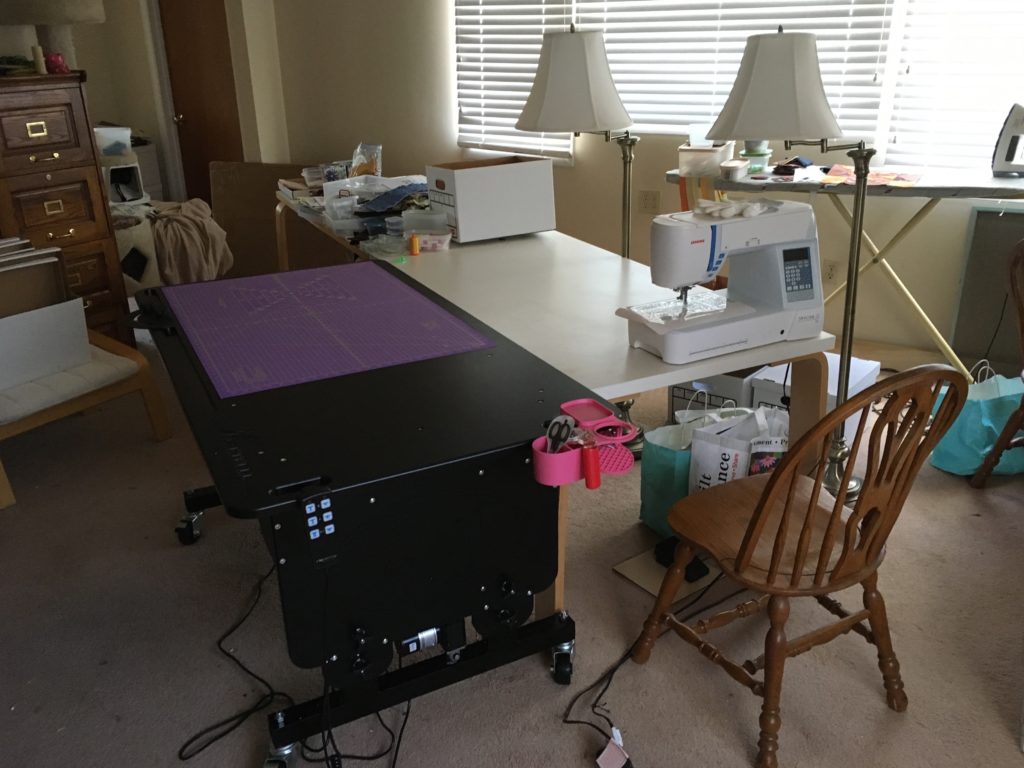 Here you can see my Martelli Workstation fully assembled and at its lowest position. I placed it next to one of my Ikea tables. The Ikea table is about a full inch lower than the Martelli table. I was hoping I would be able to get them at the same level, but the Martelli does not go that low. I don't think it is a major issue for my purposes though. I've placed my sewing machine on the end of the Ikea table and will be using the Martelli to support the bulk of a quilt as I free motion quilt it. I'm planning to buy an acrylic table to extend the bed of the sewing machine and will then raise the Martelli to the same height. I'm going to have to be careful that I purchase an extension table that will not extend beyond the Ikea table though, which is 22 inches wide.
I'm looking at the Sew Steady tables. I am buying a queen sized Supreme Slider so I am going to need an extension table to accommodate it. In the mean time I broke down and ordered the small Supreme Slider for use on regular machine sewing bed.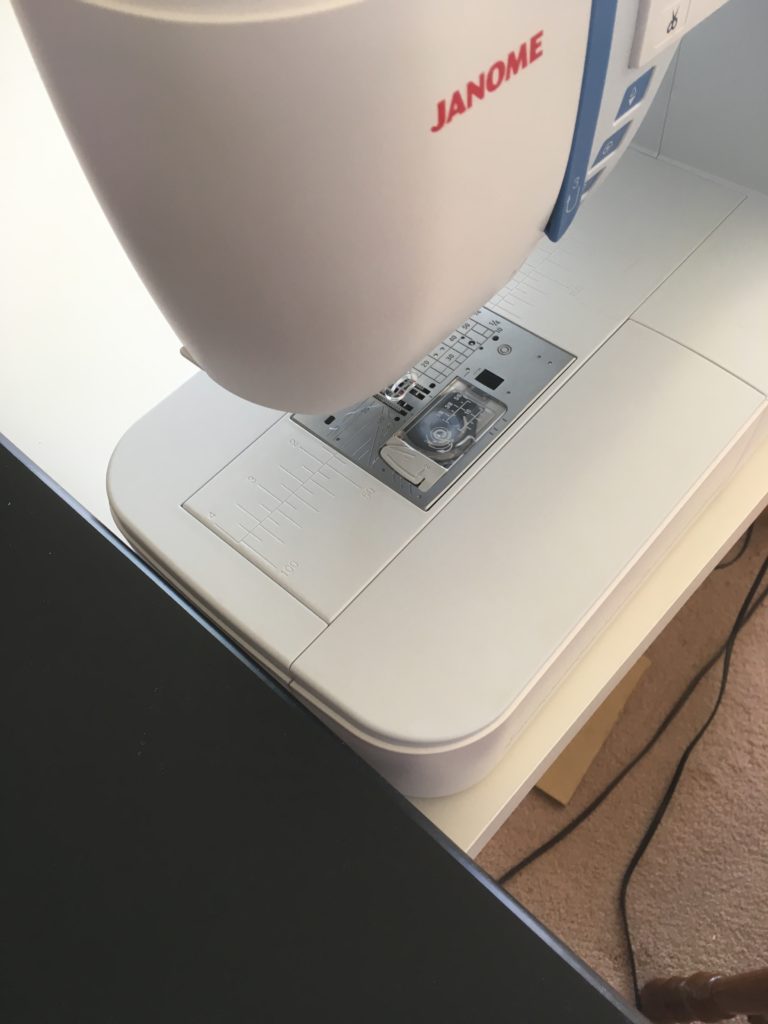 I tried moving the sewing machine to the edge of the table and raising the Martelli to meet the height of the bed of the machine. This is okay, but I would really like the have the bed extended back farther behind the machine.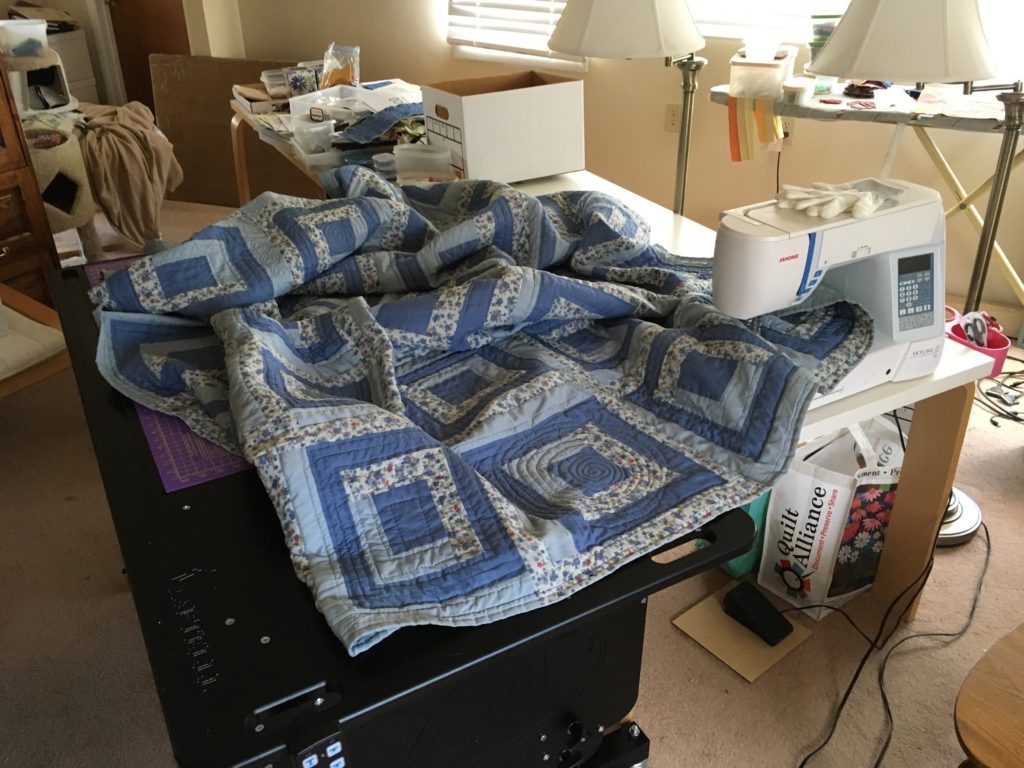 I did some quilting and was very happy with the way the Martelli table supported my work even at its lowest level.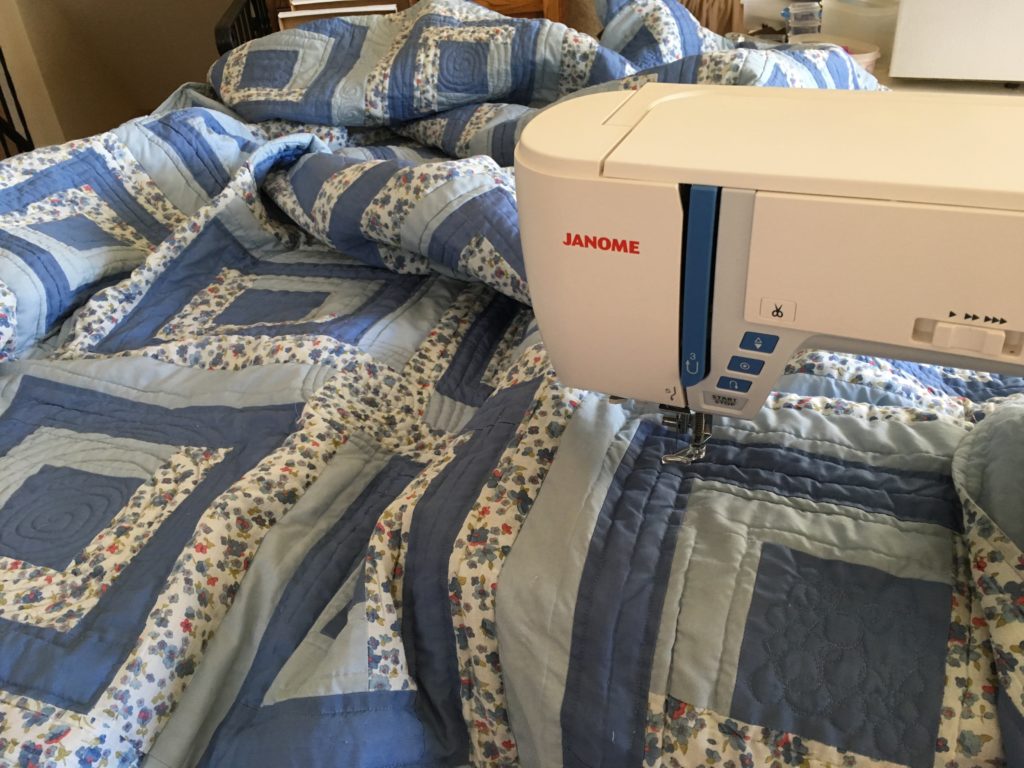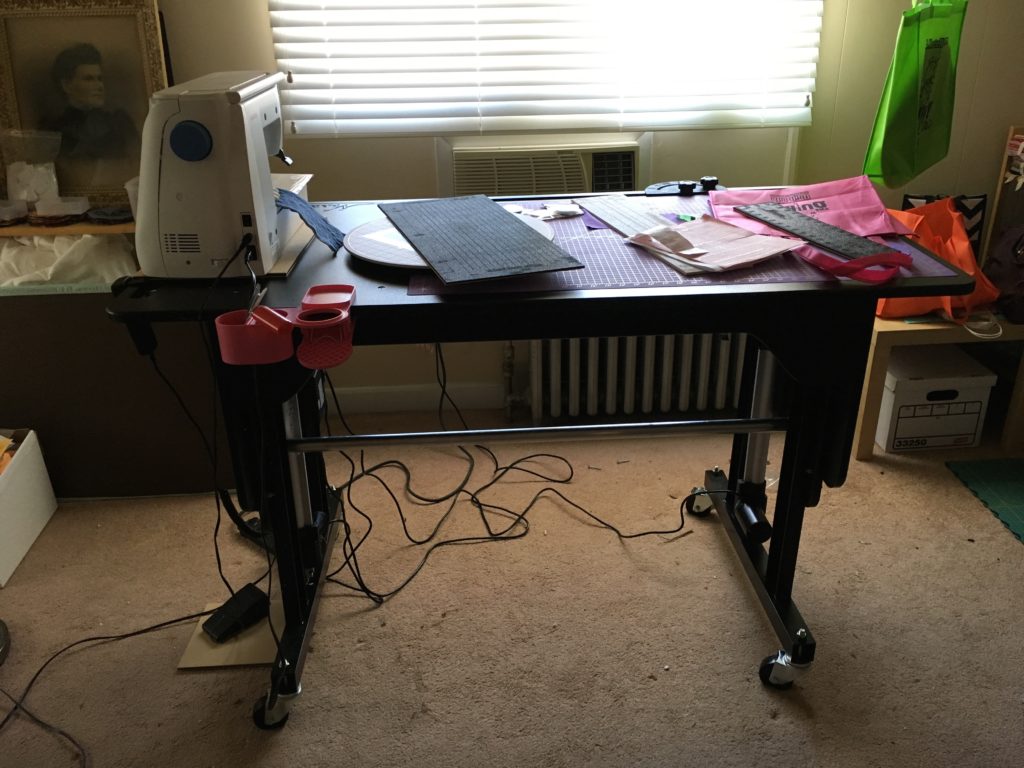 Initially I thought that I was going to locate the table in front of the window with the air conditioner. The photo above shows the table raised up to a comfortable level for sewing on my Janome while standing.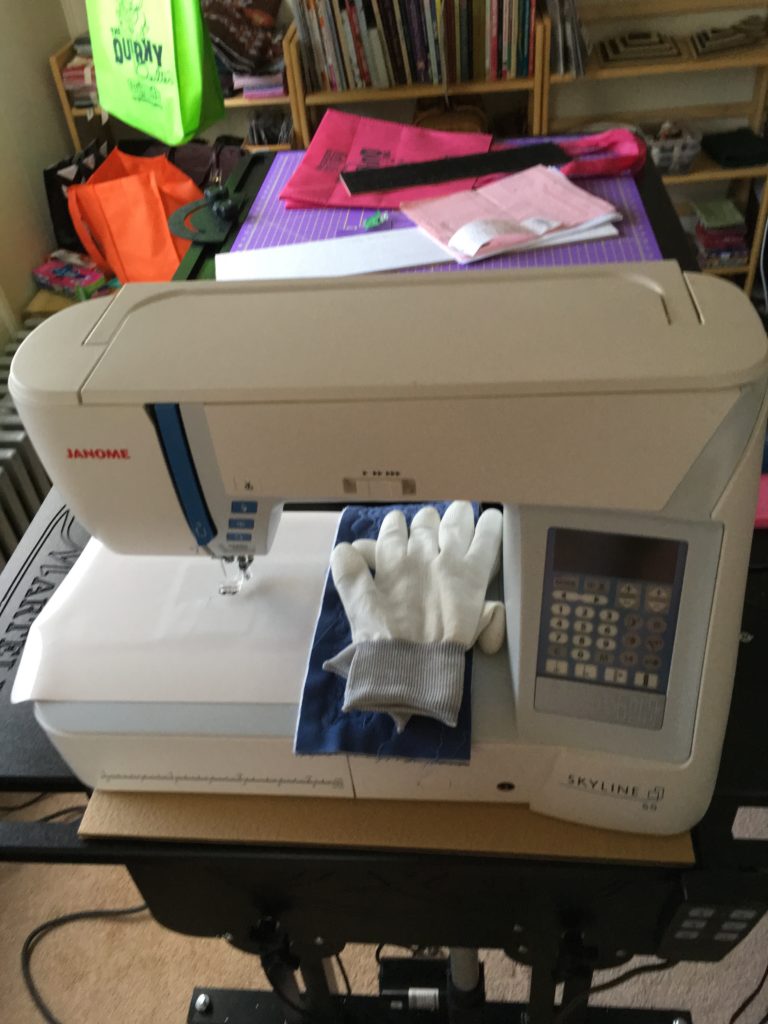 I have a mat which prevents the sewing machine from sliding when the table is angled. You can achieve a more comfortable viewing angle by lowering the side with the sewing machine. The table is level in the photo above. You can also see the Supreme Slider in place on the machine bed. I have since trimmed it to get rid of the spillover on the left and top sides.
I have a lot more work to do to get this room whipped into shape as a studio, but I feel as if I am well on my way, probably more than halfway done.