Long ago, a little over forty years ago, I created my 5th quilt from my First Act In Fiber Arts. It was a version of a log cabin block. I am calling it an alternate grid variation because I did not make all of the blocks the same size, and I did not make all of the blocks square. Rather, I created a grid of larger squares, and smaller squares along with rectangles.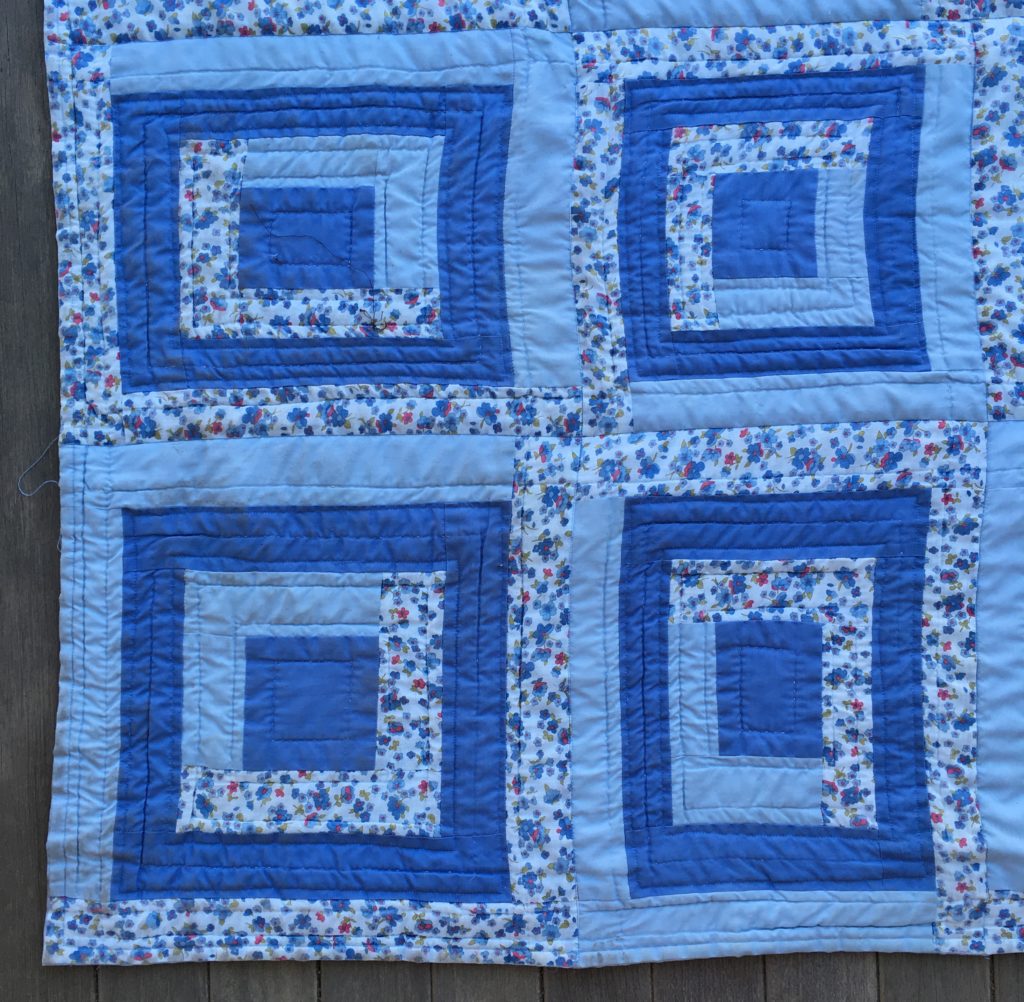 The photograph above shows the alternate grid design and also some of the machine quilting that has since been added.
I hand quilted this piece when I first made it. Then I used it, and used it, and used it some more. As time passed the quilting started to rot away. Forty years is a long time to use and wash a quilt repeatedly.
I found, upon my return from QuiltCon 2017. a desire to do some machine quilting. I had spent a lot of time testing out mid arm quilting machines on the show floor at QuiltCon, and I thought that it would make sense to see what I could do with my domestic machine before considering such a large purchase. I had only done a small amount of machine quilting up until this time, mostly using a walking foot. I had created some end table covers using a walking foot. I had also done a little experimentation with free motion quilting when I took a class to learn how to use my Janome Skyline S5.
Here are a few views of the full quilt: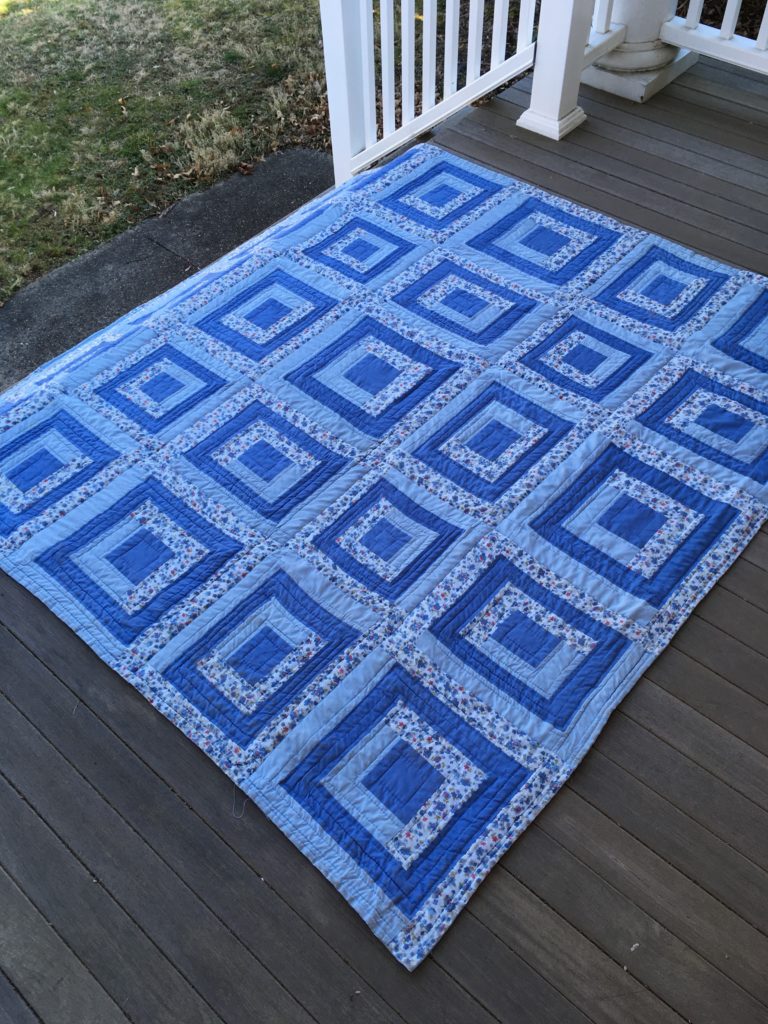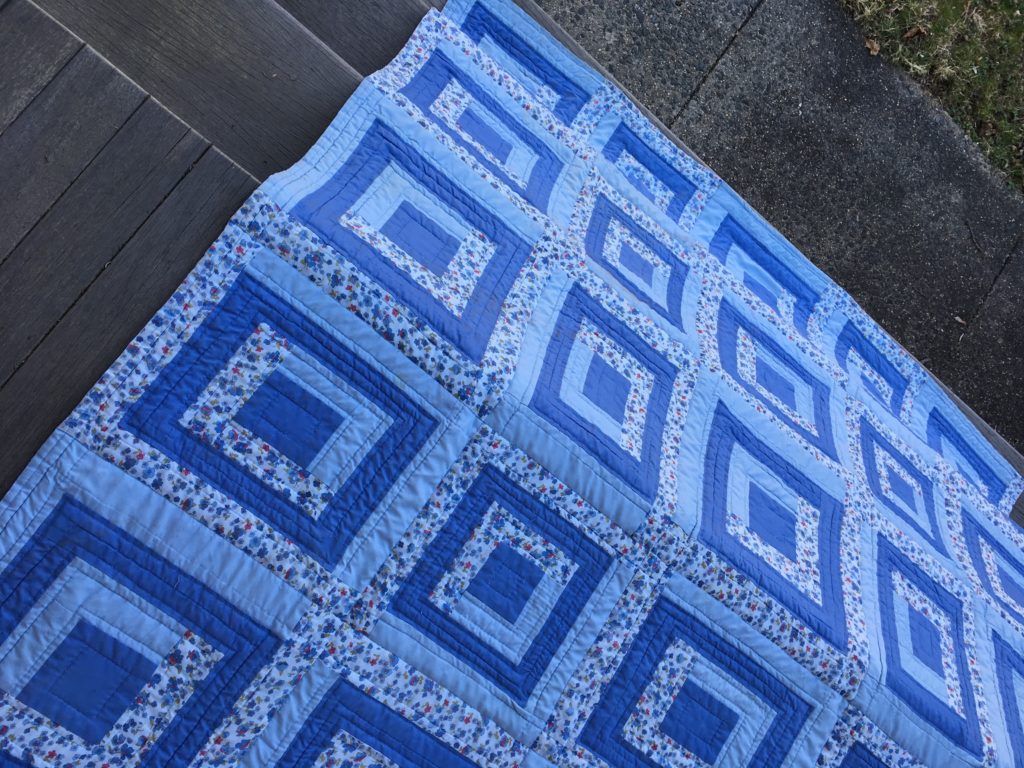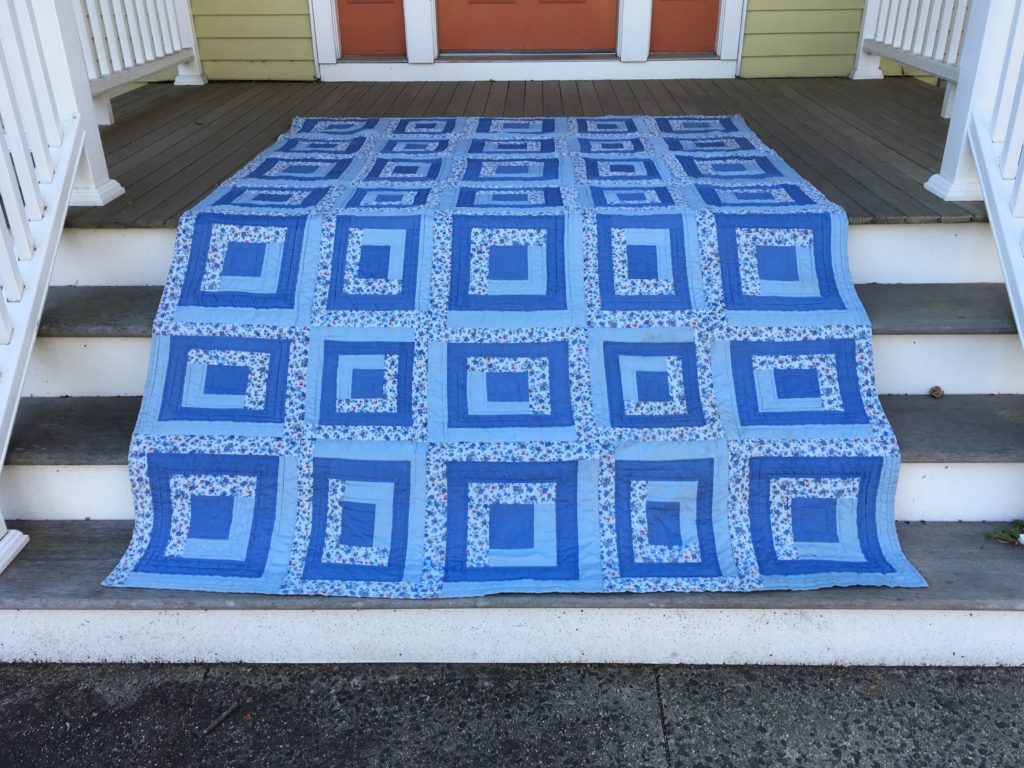 Though the quilt was traditional in design, some things about this quilt were fairly modern for its time. First of all there is the alternate grid. Second there is the scale of the blocks (fairly large and made on only a few pieces), third there is the emphasis on solids, and forth there was the way the dark blue squares and rectangles were allowed to transverse the two sides of the log cabin blocks. I decided to make this very slightly modern quilt even more modern by machine quilting it. I would use it as a canvas to practice quilting with the walking foot and also using free motion quilting. While doing so I decided to leave the rotting hand quilting in place. There was no need to remove it. I would simply work around it.
I started with the walking foot by stitching in the ditch from one side of the quilt to the other in both both horizontally and vertically to mark where the blocks meet. Then I echoed the large dark blue squares and rectangles using the walking foot.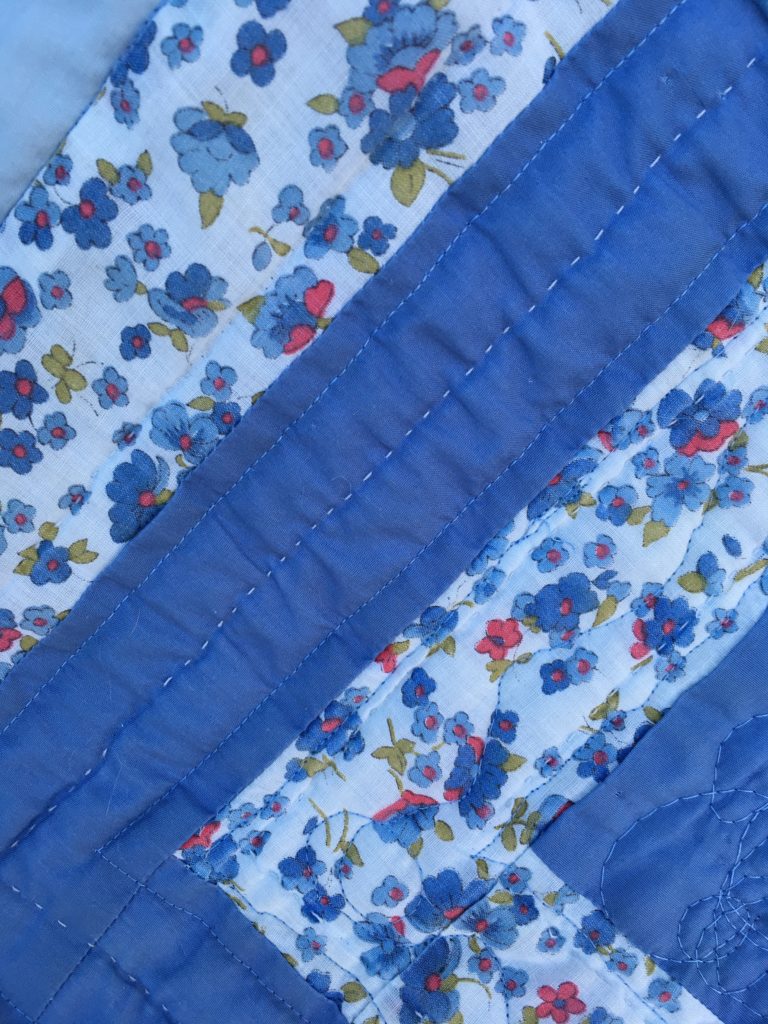 The photo above shows the contrast between the original hand stitching running through the center of a large dark blue square and the machine stitching. The machine stitching emphasizes a dark blue square using machine stitching 1/4 inch away from the seam lines. These stitching lines occur on both the inside edge and the outside edge of the square. Given that there are 35 blocks in the quilt this meant that it was necessary for me to wrestle the bulk of the quilt through the throat of the machine 70 times. I like using the walking foot. It gives a great deal of control and a wonderful result, but I am not a fan of wrestling the bulk of a full sized quilt through the throat. I can see using the walking foot for stabilization before doing free motion quilting, but doing a lot of work with the walking foot doesn't seem to be a good idea to me unless it can be achieved by going the full length or width of the quilt.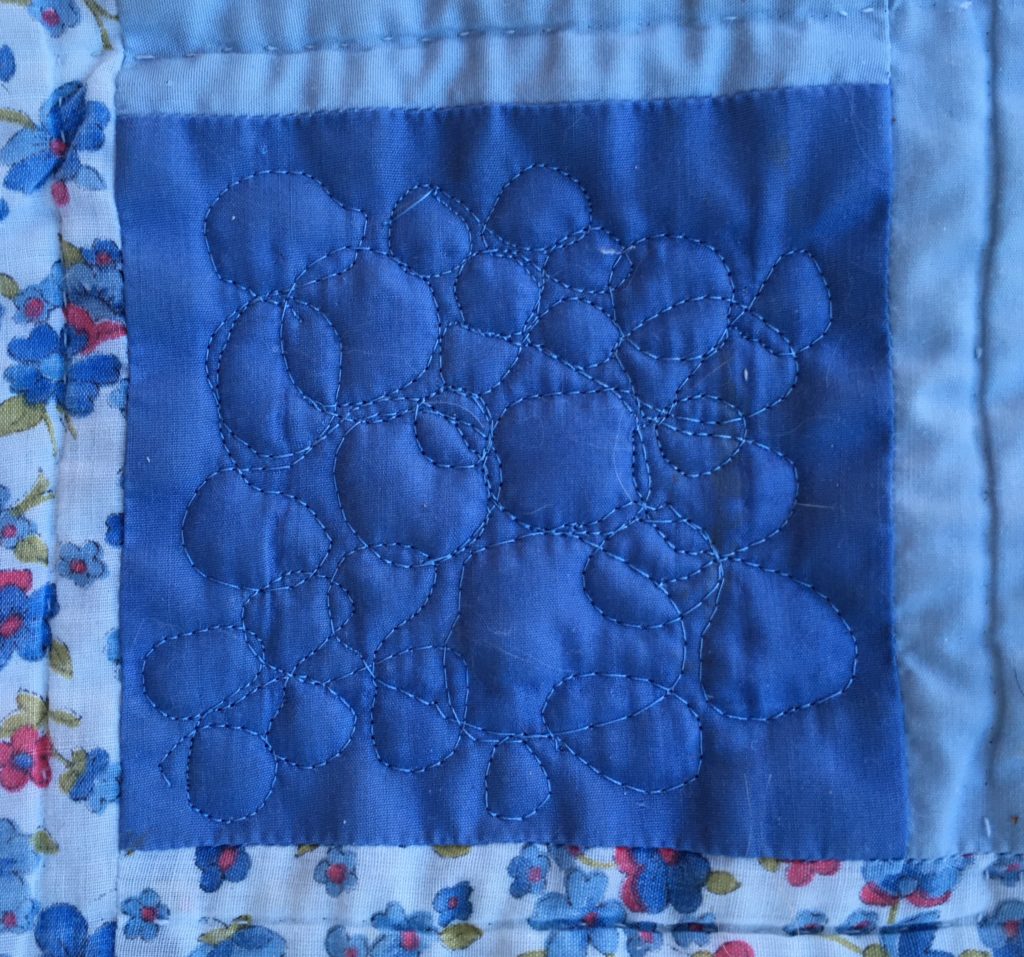 I decided it was time to try some free motion quilting. I watched an Angela Walters video from Craftsy and jumped right in. I tried some pebbles with limited success.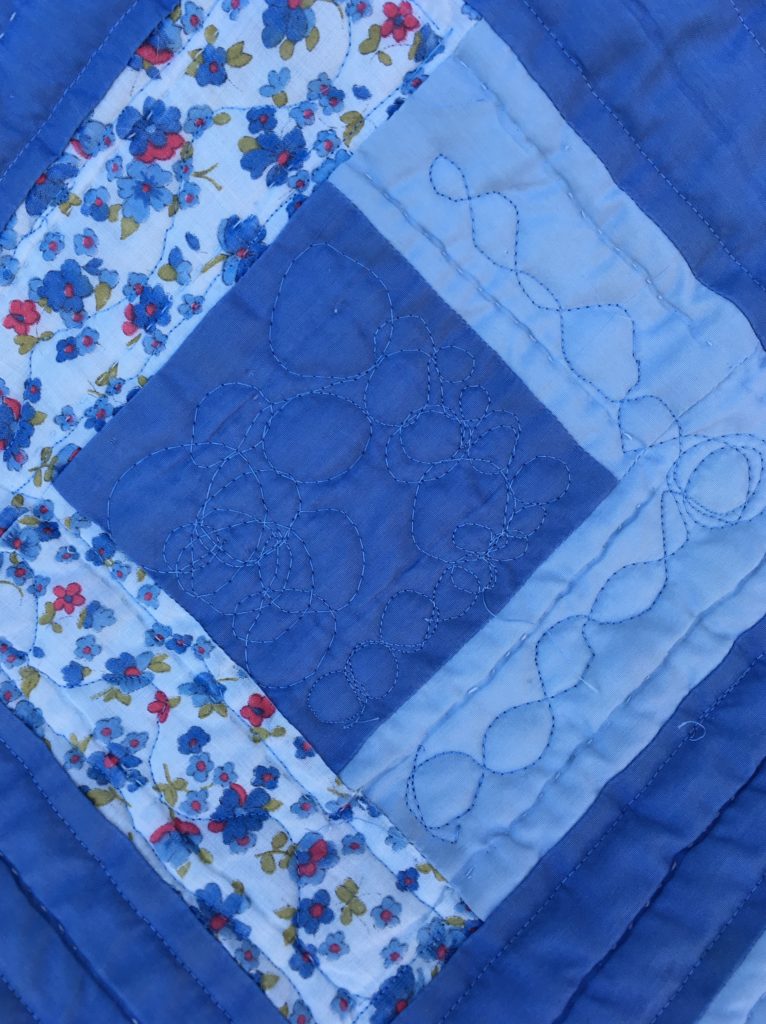 Then I decided to play around with some freestyle overlapping curvy lines. They didn't look very good, but I decided that I was not going to be critical. It was my plan to try a lot of different things and to get a feel for what it is like to try to control the bulk of a big quilt on a little machine. I've got quilting gloves and I am learning how to use them. I am finding that stitching vertically is easier for me than stitching horizontally. I am also having some difficulty with stopping the machine with the finger control in front of the needle that I customarily use, so I think I am going to switch to a foot pedal for free motion.
I'm enjoying the process, and I am ending up with an old favorite that is going to last a lot longer because it has been reinforced with machine quilting.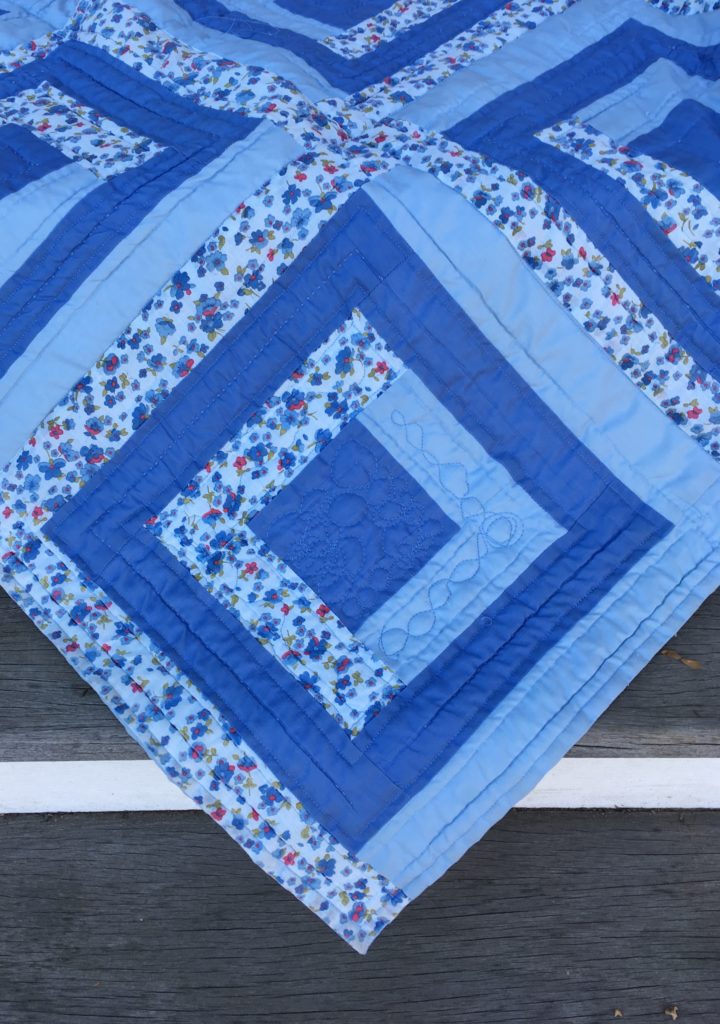 Now here is the big question. Do I share it at the Modern Quilt Guild after I have finished quilting it? I think maybe so.