I am very late posting my progress this week. I had my blocks finished by Monday and could have posted then, but I was very caught up with reading about the new Weight Watchers Points Plus plan on the Weight Watchers web site and also on various Facebook groups to which I belong having to do with Weight Watchers. I've been a member of Weight Watchers for over 40 years, and have had my ups and downs. I even worked for Weight Watchers for six months back in 2006 and 2007. I had planned to make it a second career, but I gave it up when we moved rather than look for a new location to work for Weight Watchers.
I have always been quite open about my weight loss journey and maintained a daily blog over on Spark People for over a year when I lost weight using the Body Media Fit armband, which has since been taken over by Jawbone. In any case, I might choose to blog about the new program and my success at maintenance since I have been under goal now again for a few weeks. The new Points Plus program is the biggest innovation in Weight Watchers in over 50 years. There is a lot to be excited about. Maybe I will write more about that in a later post.
This past week we had two blocks to complete, #55 Malvina, and #22 Cat.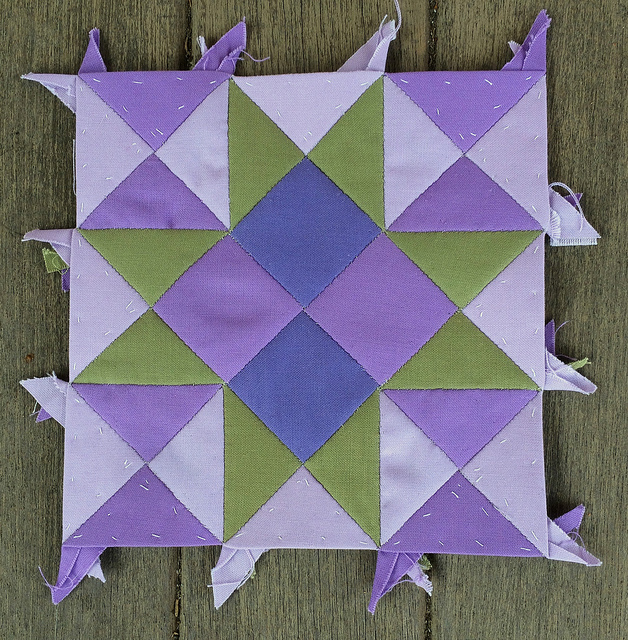 #55 Malvina
Malvina is made with the Kona Solids:
Sweet Pea, Thistle, Wisteria, and Amethyst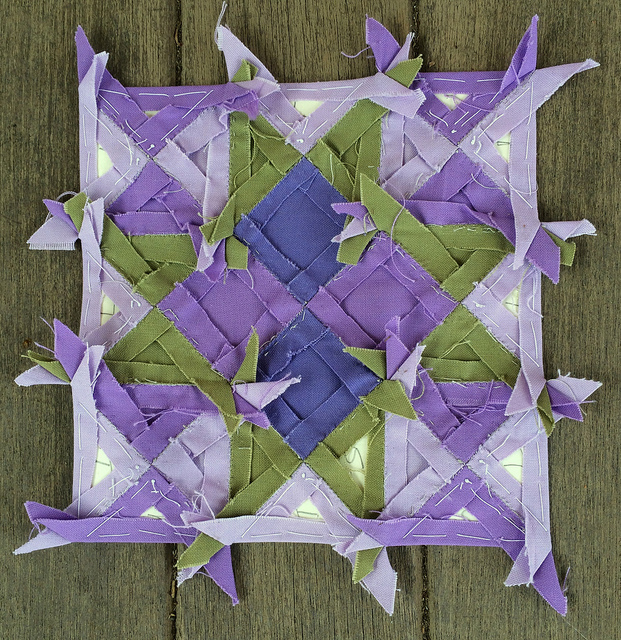 Malvina From Behind
There is a story behind the creation of Malvina. I generally use only as many fabrics as the diagram shows in the book when I create my blocks. Malvina was shown in the book with only two fabrics. She was kind of boring in my opinion. I was really happy that I waited to start work on Malvina. Because I waited I was lucky enough to see the work of Tracy Holzer, which caught my eye as I was looking at the Farmer's Wife Facebook Group feed. I was impressed with her choice of fabrics because they brought forth a star shape that exists in Malvina, but which isn't apparent if you make her with only two fabrics. Tracy's work is shown below. The star shape is subtle because there is not a lot of contrast in the value of the green and brown. I like that. I tried to emulate that in my color choices as well.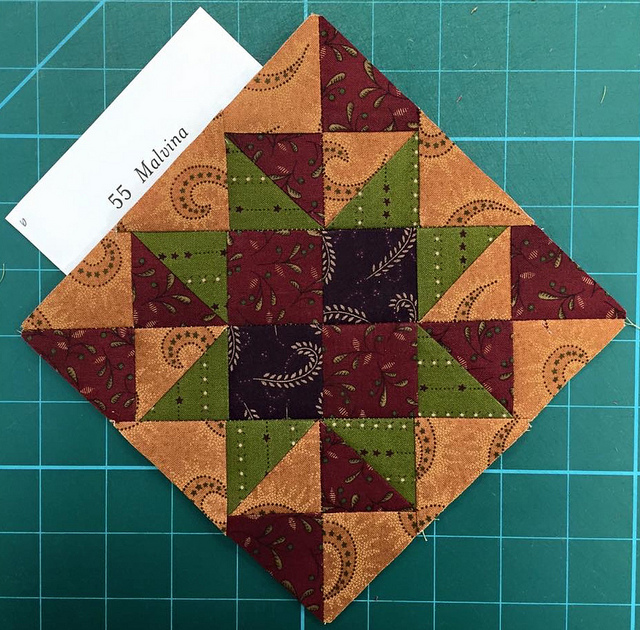 Malvina as Adapted by Tracy Holzer
Work shown with permission.
What is especially nice in my opinion about being inspired by Tracy's work is that we struck up a conversation on Facebook about it. She then looked me up through the Gnome Angel Linkup Party. Having found my blog she make a few comments on the blog post previous to this one, and our conversation continued there. This is exactly how a QAL is supposed to work. This is why I participate. I will be looking for Tracy's blocks in the future and I hope that she will be looking for mine as well.
The second block of the week was #22 Cat.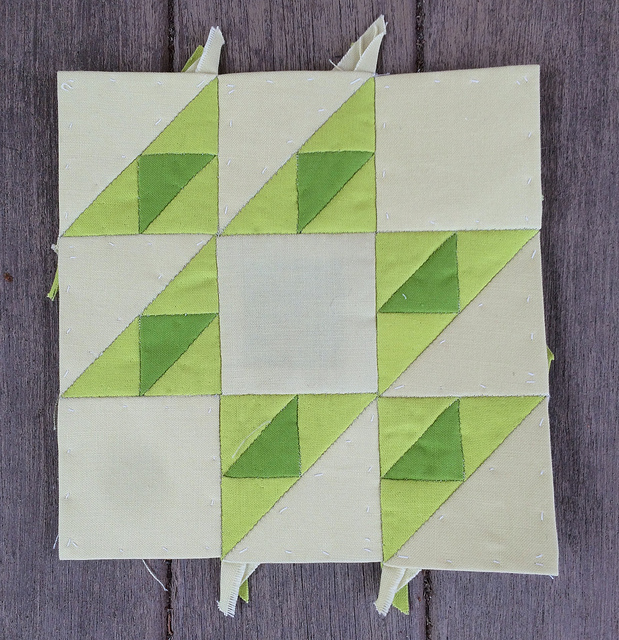 #22 Cat
Cat is made with the Kona Solids:
Celery, Lime, and Limelight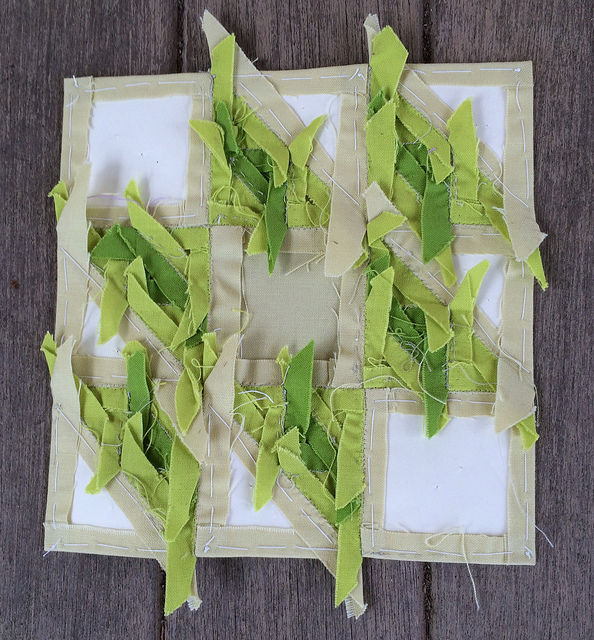 Cat From Behind
Celery has become a staple choice in my Farmer's Wife Quilt blocks. I had been wanting to use Lime and Limelight for awhile, but was a little concerned about how bright those colors are. I felt that the small amounts used in this block would play well with the celery. I am hoping to work them into future blocks.
We have one more week of assigned blocks until we get a few weeks off for the holidays. For me that means time to get ahead. Last week I was discussing my progress with a member of my quilt guild who has taken an interest in my Farmer's Wife posts. I mentioned that I was making it a point to do an extra block every time a block is assigned that I had done ahead. I had gotten five blocks ahead at a recent sewing retreat in November. I told her that I do that so I continue to be five blocks ahead. She jokingly asked me, "What happened to Slow Stitching?" She knows I am a proponent of the Slow Stitching Movement. I replied, "They each take me about six hours to complete, you can't get much slower than that!" You had to be there.