Yesterday my husband and I attended the Chesterfield Township Historical Society Heritage Day. My husband's cousin is the President of the society. Having seen my Facebook posts, she thought I would enjoy seeing the quilts on display. She was right about that. I think you might enjoy seeing them too, so here they are for your viewing pleasure.
The quilts were displayed in a Quaker Meeting House draped over benches, and also hanging from the upper level.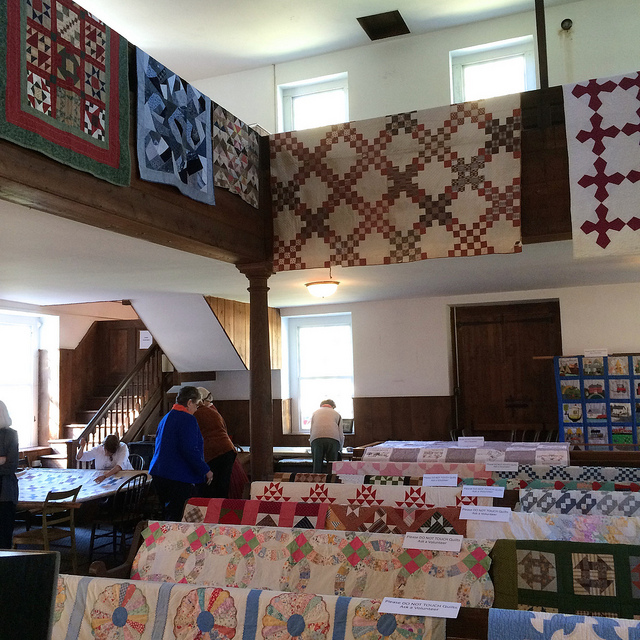 I found this to be a delightful way to display the variety of quilts in such a small area/ It also allowed people to get up close and view the details by walking through the isles. The only down side was that you didn't get to see the entire quilt.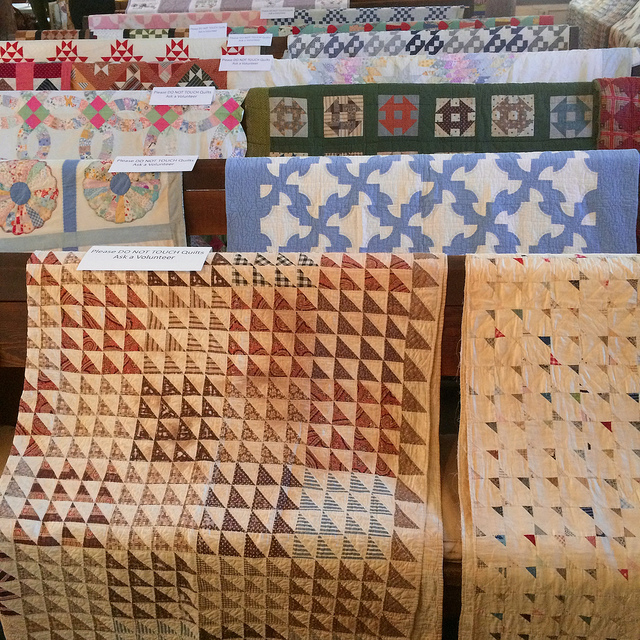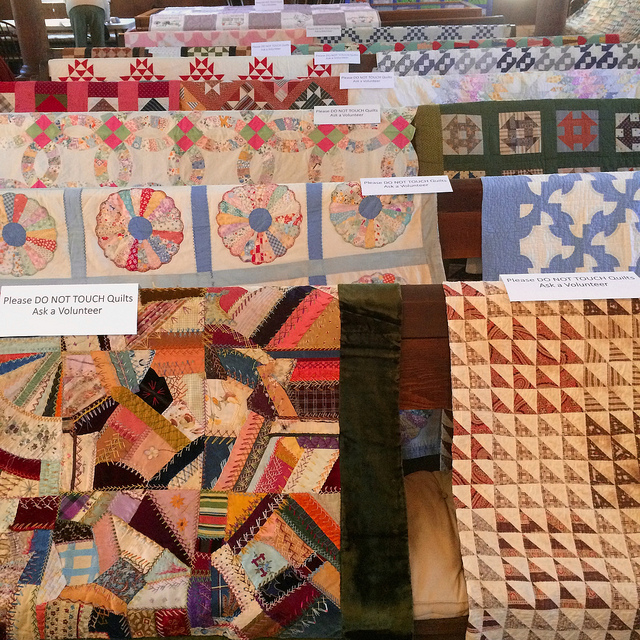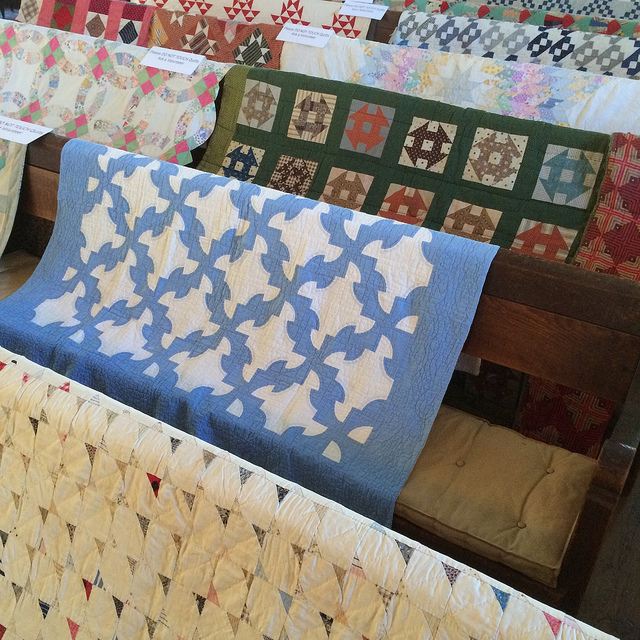 There were far too many quilts to take photos of each one individually, but I have taken individual shots for a few of the quilts that particularly caught my eye. Let's start with the quilt toward the front of the photo above.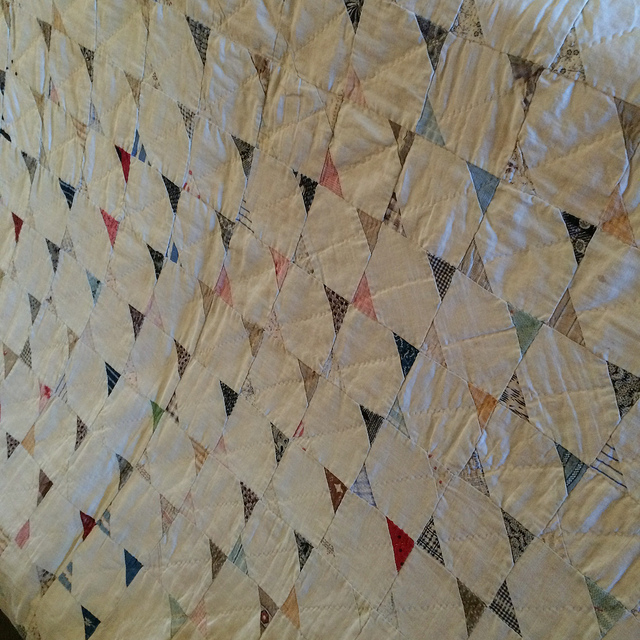 I think I am going to have to put this on my bucket list of quilts to make. This would be a great way of using up teeny tiny pieces of Kona Solids. I can see it done with bright colors for the tiny triangles using a variety of subtle gray colors for the background areas.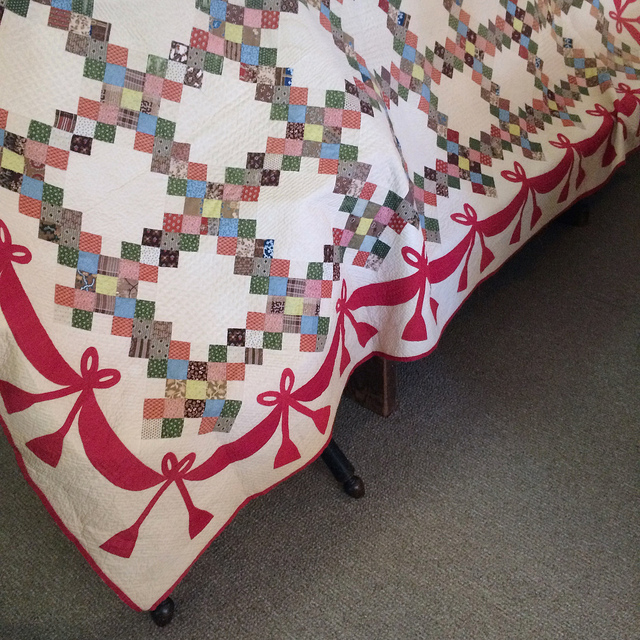 Here is a quilt displaying a delightful combination of patchwork and appliqué. It deserves a few close ups.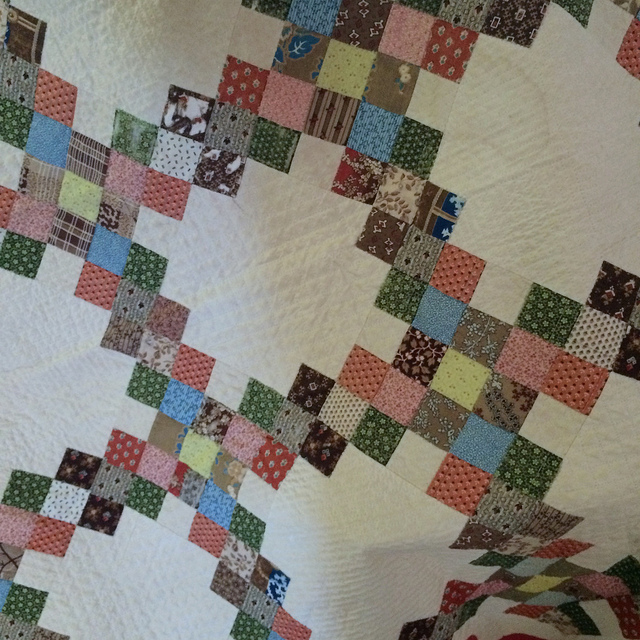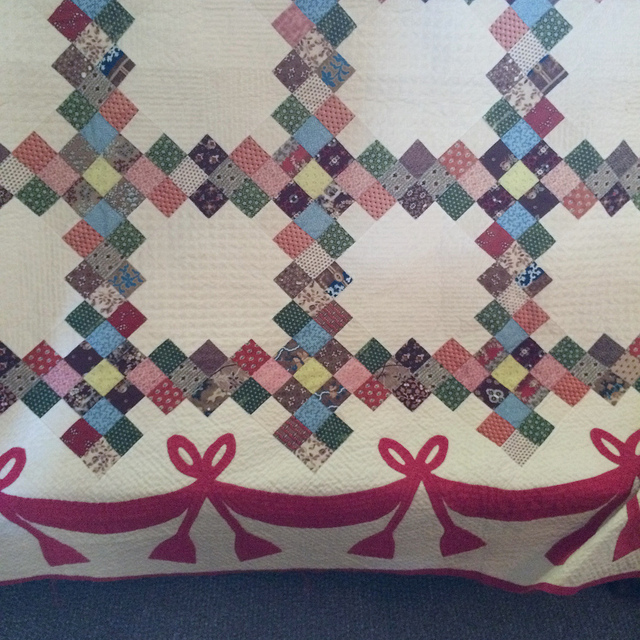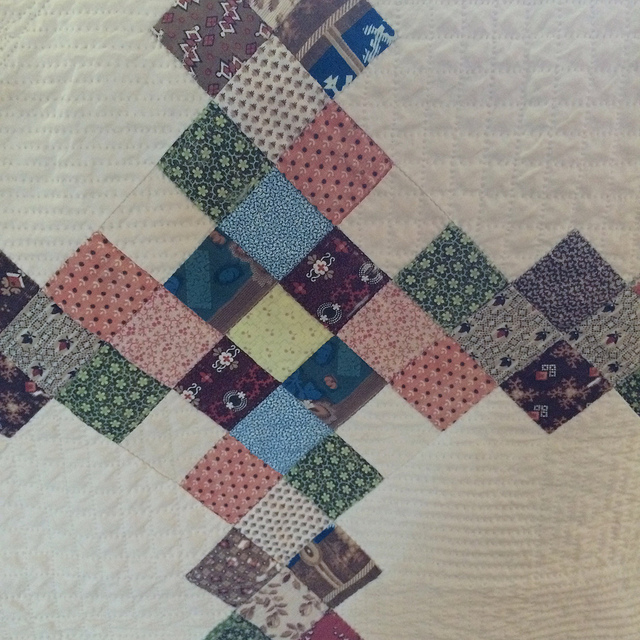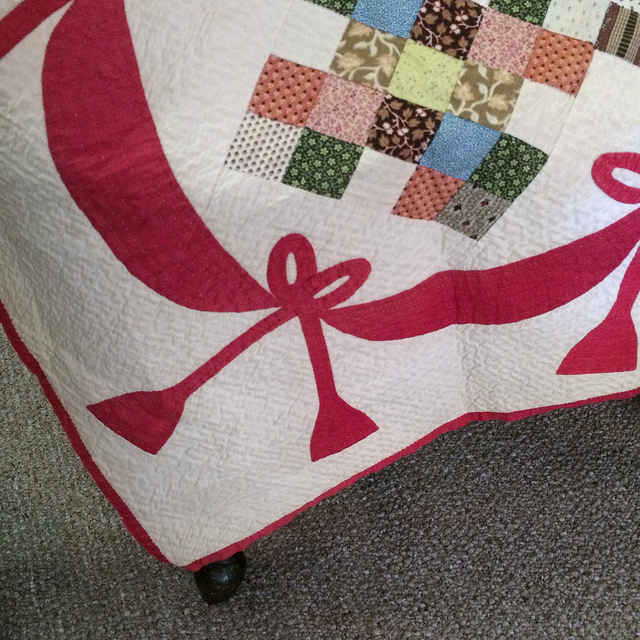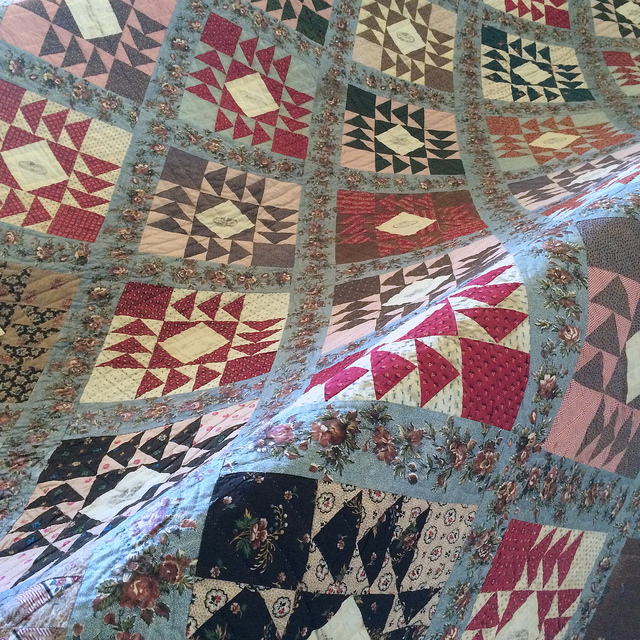 I was told that this quilt featuring flying geese is particularly meaningful to the township. It has diamond patches in the centers of the blocks with information on them. Here is a second view of the same quilt.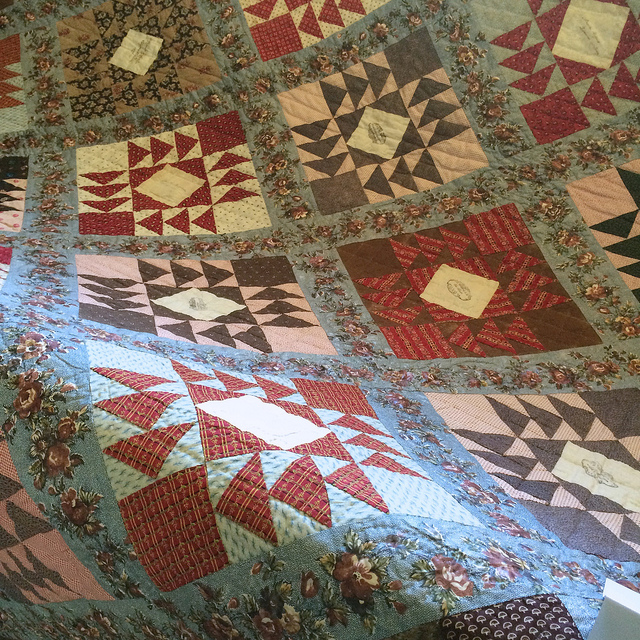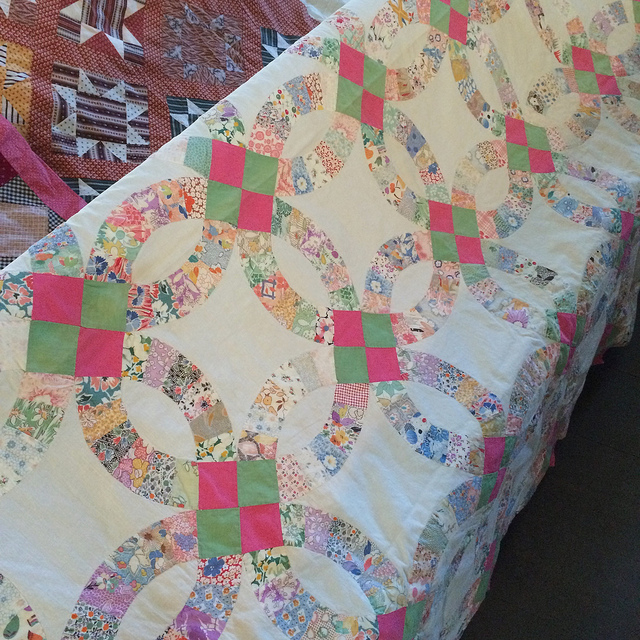 What would a quilt display be without the obligatory Wedding Ring Quilt?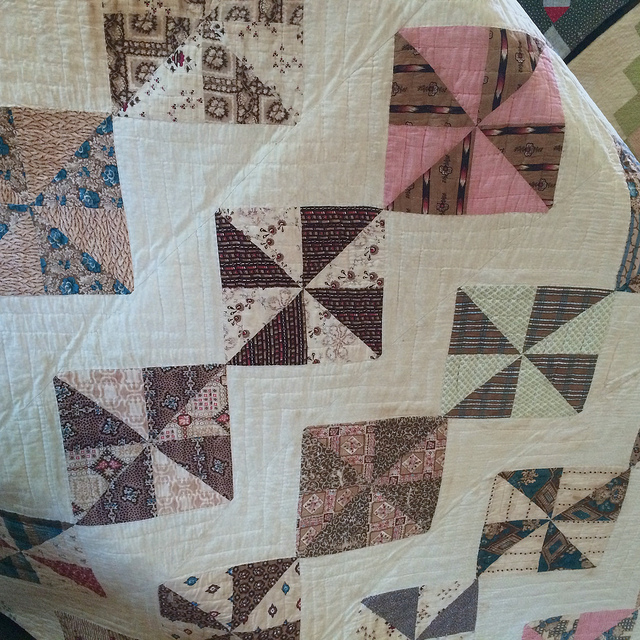 We have a Pinwheel on display utilizing white sashing.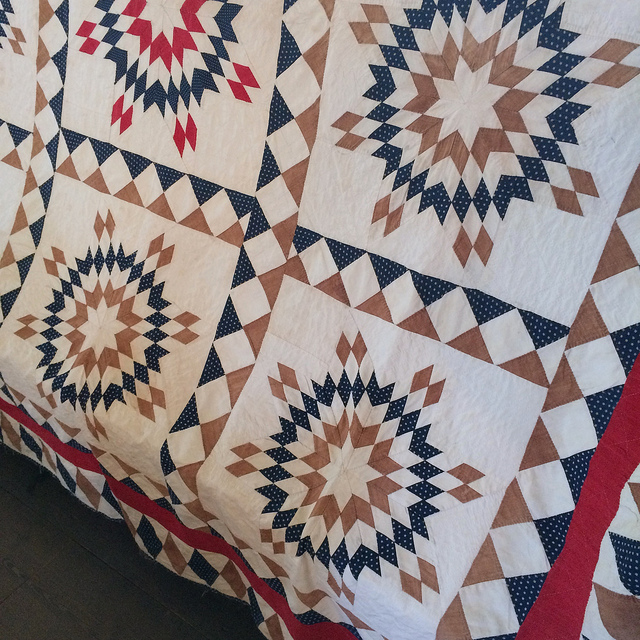 Here is one I can't name, but I can guarantee you it was hand pieced with either a traditional method or with English Paper Piecing. EPP would have been my preferred method of tackling it.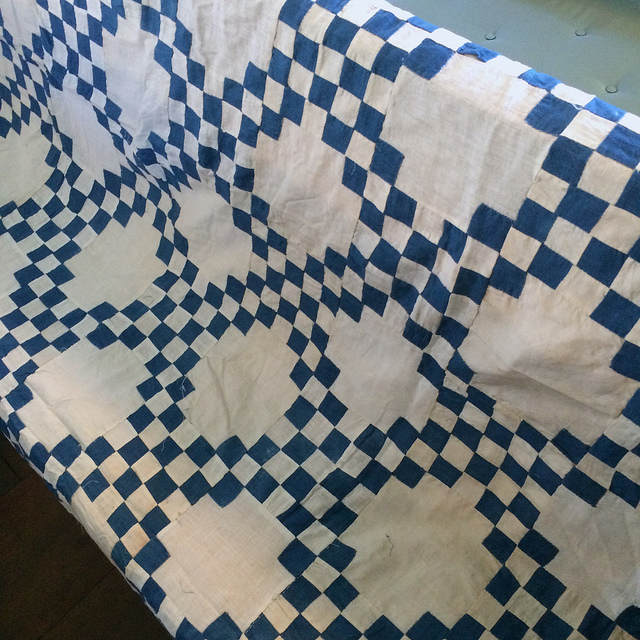 And, of course, we must show the beauty of the two color quilt. I'm pretty sure that you would call this an Irish Chain.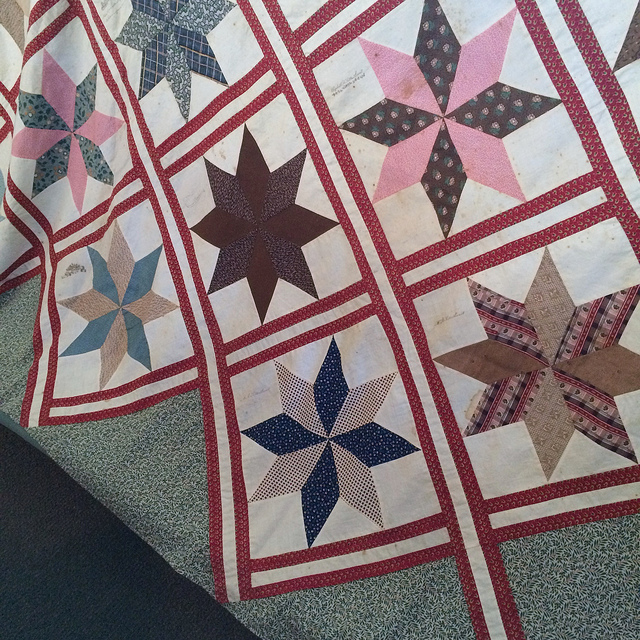 I don't have a name for this, but it is some type of a star.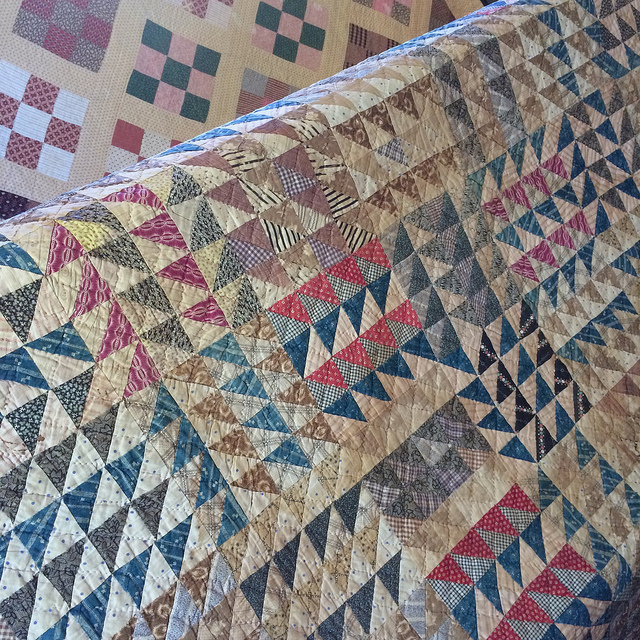 I don't have a name for this either, but it is definitely a Half Square Triangle party taking place.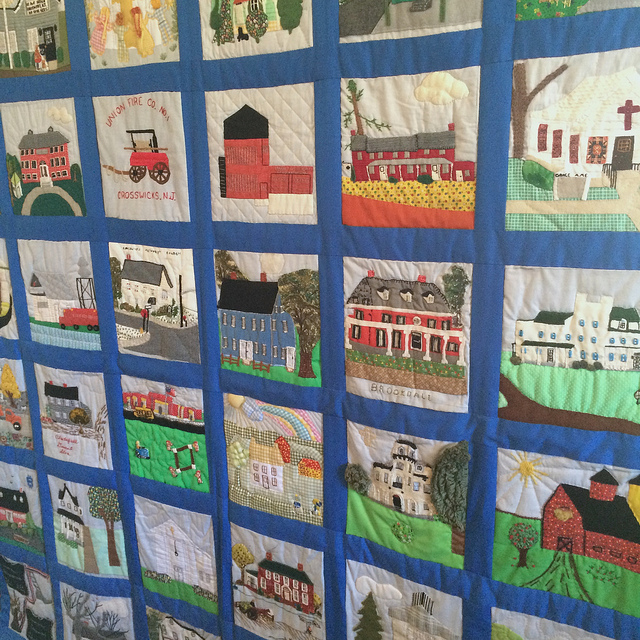 I almost didn't take this photograph because album quilts are not my thing at all, but I am glad I included it to show that the display was inclusive of appliqué even though it was heavily weighted toward patchwork.
Let's have a look at the quilts displayed above: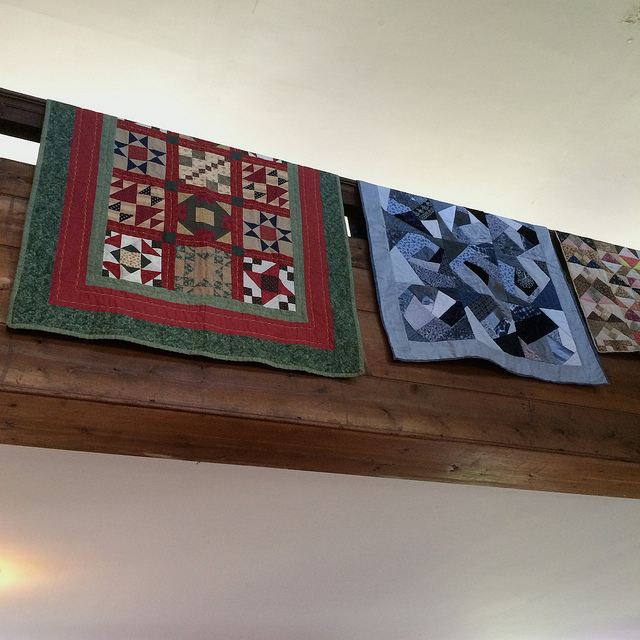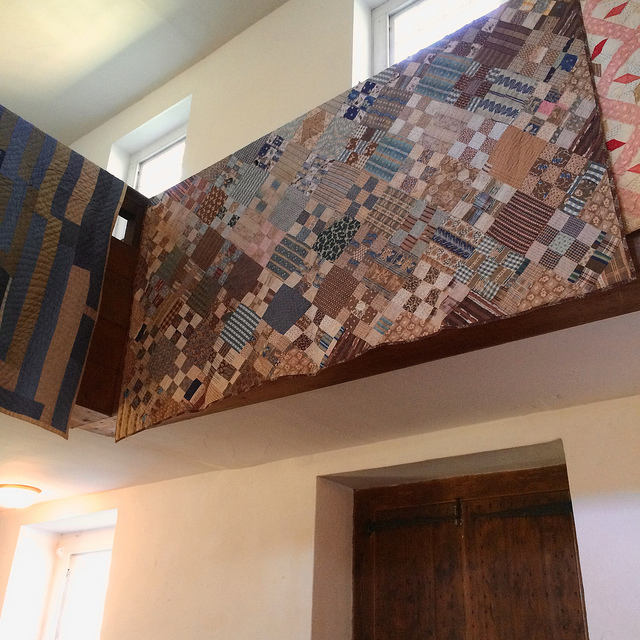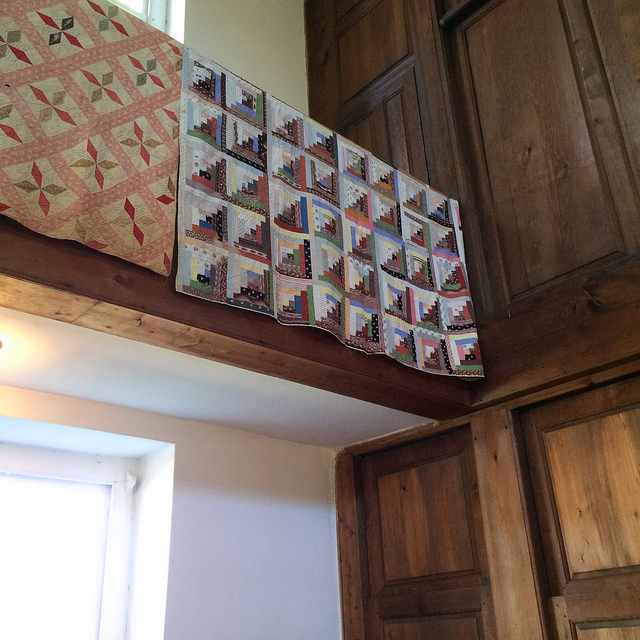 You've got to love a log cabin quilt. I know I do.
Last we'll take a peak at the Quilting Bee taking place, which visitors were invited to participate in. I didn't try my hand at quilting on the frame. I already know that I prefer to lap quilt. It was early in the day when I took this photograph, but we have one woman taking part in the fun already.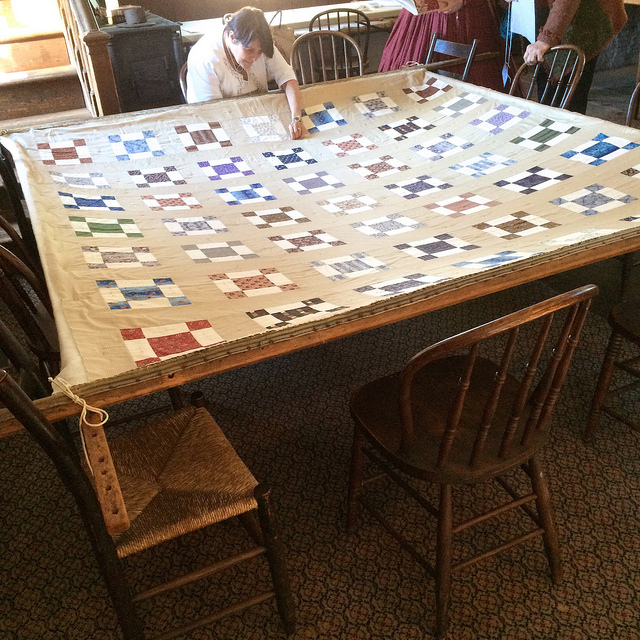 Some of these quilts must have been done recently because the the display was described as being "antique and contemporary quilts on display." You would have to get up close to tell the difference because even the contemporary quilts were vintage in design. It didn't seem productive to try to guess which were antique and which were not. They were all well crafted, and as far as I could tell, none were machine quilted. I didn't get close enough the ones that were hung high to know that for sure, but it was a Heritage Festival and the quilts followed through on the theme, so I would imagine that machine quilting would probably not have been in keeping with the theme.