Last Saturday I got on a train and traveled into Manhattan to attend an annual quilting event put on by the Quilt Alliance called "Quilters Take Manhattan". I met up with three other members of the Central Jersey Modern Quilt Guild on the train, and we walked together to the Fashion Institute of Technology where the event was held.
I really enjoyed the day. There were vendors to visit, goody bags with charm packs, and even Fat Quarters! But most impressive of all was the coupon for a free Craftsy Class. I redeemed mine for a class by Angela Walters called "Machine Quilting Negative Space". The price of the class is $39.00, so it nearly covered the $50.00 cost of the ticket to the event. Add, taking into account the fabric in my goody bag, I definitely attended Quilters Take Manhattan for free.
The event included inspirational talks by Ricky Tims and Victoria Findlay Wolfe, as well as others. there was a silent auction of some wonderful items plus a raffle. I purchased $10.00 worth of raffle tickets for this good cause, not expecting to win anything, and I was right. Money well spent though.
Now for my progress on my Low Volume Quilt…
I cut into a new fat quarter from the Kona "Not That White" collection. This week's color is Champagne. I made five flowers and still have some basted hexagons left, so there will probably be two or three more flowers of this color coming soon.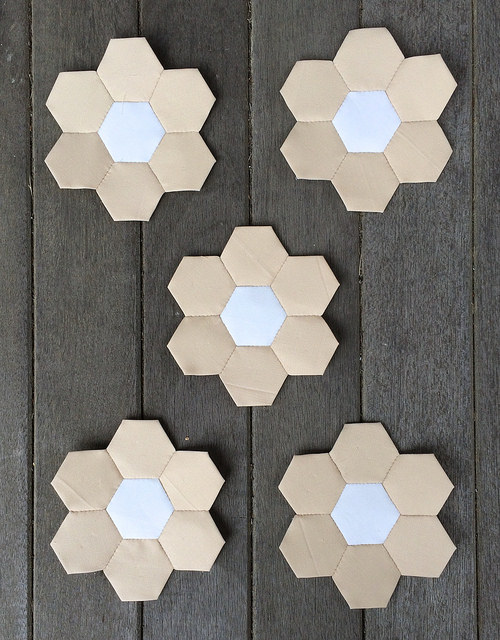 I am linking up with Jessica's Monday Morning Star Count over at Life Under Quilts, as usual.
Those of you coming here from the Star Count might enjoy reading about my most recent progress on my Kona Log Cabin Quilt.