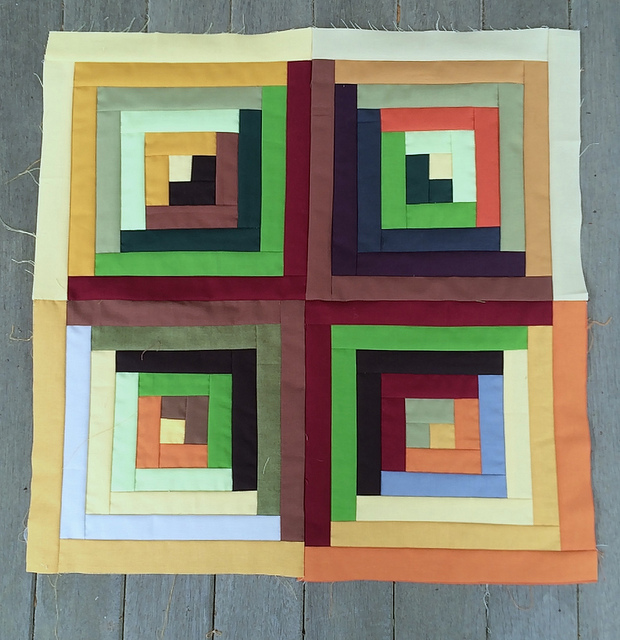 I finished assembling the night stand cover for my husband's side of the bed. I have not yet decided what color I will use around the edge, for the binding, and for the backing fabric. I may use the same Kona Sweet Pea as I used for my own nightstand cover.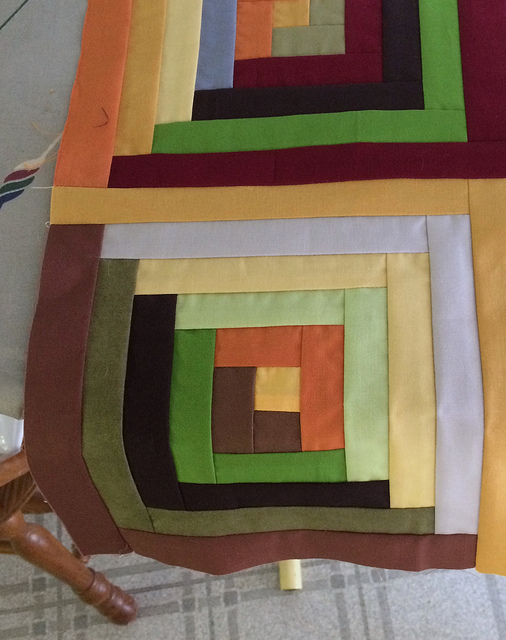 When I finished the first seam on his night stand cover I realized that I was assembling the piece differently than I had intended. I was putting together the dark and light sides. This would have resulted in an interesting piece, but it was not what I had done for the nightstand cover for my own side of the bed. There I had pointed the dark portions toward the center.  My error gave me an opportunity to get to know the seam ripper that came with my Janome Skyline S5.
Speaking of the Skyline, I was forced to learn how to fill a bobbin this week. I was also forced to learn how to thread the machine. I had not needed to learn either of those skills previously because my demo unit came with a spool of thread pre threaded, and two filled bobbins.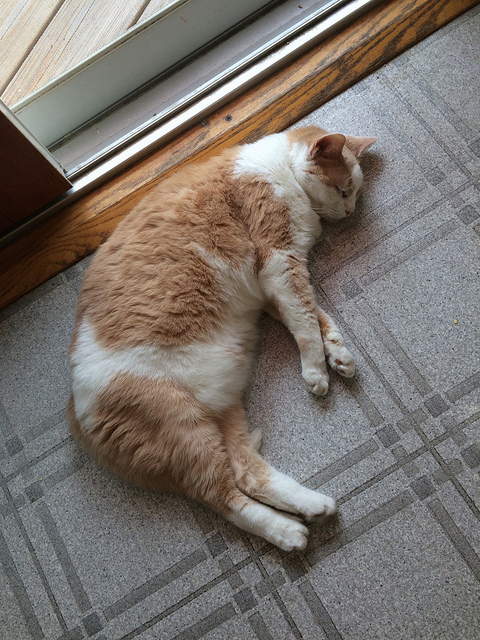 My beloved cat, Lori, has kept me company a good deal of the time that I have been working on these log cabin units. I have been sewing standing up in my kitchen while I am using my machine. Lori likes to hang out near the back door in the kitchen.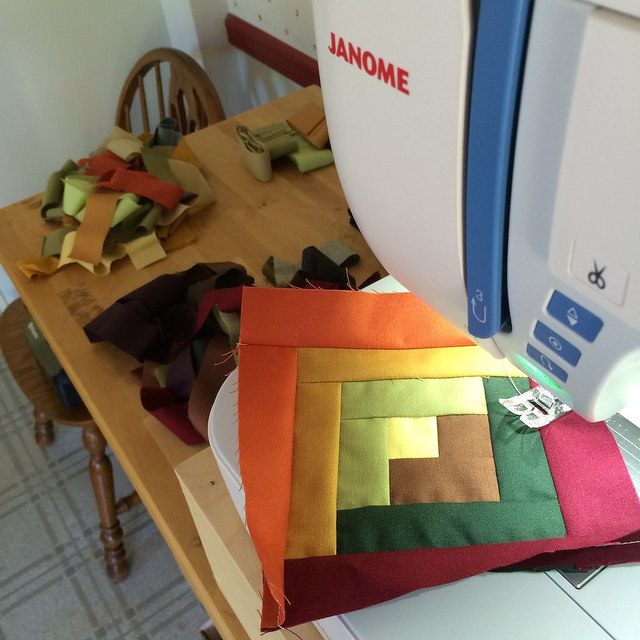 Here is a bit of perspective on the height at which I am working with my machine boosted with a wooden unit on top of a counter height table. I'm not using the foot pedal when I sew. While I found it odd at first to be sewing at a consistent speed all the time, I got used to it quickly. I like it now. I keep the speed fairly slow.
I've accumulated twelve units for the Kona Log Cabin Quilt at this point and am beginning to think of how I might like to arrange them.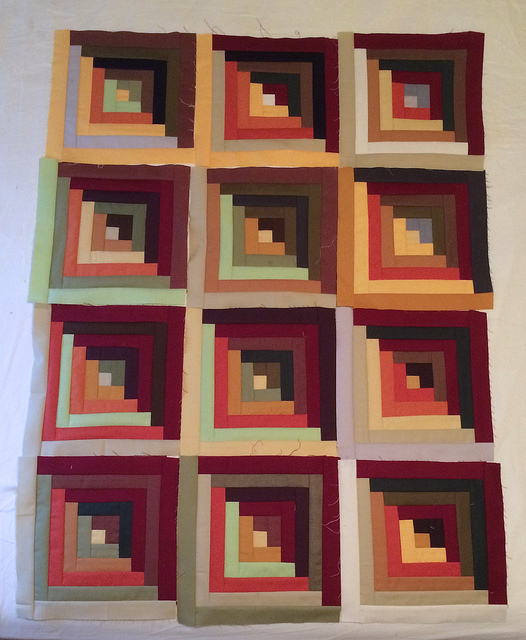 I will be trying some other arrangements before I settle in on the final layout.
I decided to purchase some additional kona solids to continue my work on this quilt.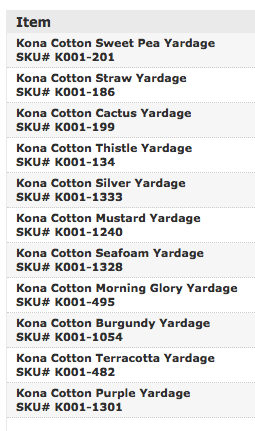 The least amount of yardage you can order from The Fat Quarter Shop is a half yard, so I ordered half yard pieces of each of these except for the burgundy I need for my Batik Flower Garden Quilt. I ordered three yards of that.
I am looking forward to the arrival of these fabrics. When I get them I am thinking it might be a good idea to cut sample pieces of each fabric and to label them with the name of the fabric. That way it will be easier to identify the names when I want to order more of something in the future. It has been my experience that it is not that easy to match up a fabric with the tiny samples on the Kona Sample Card.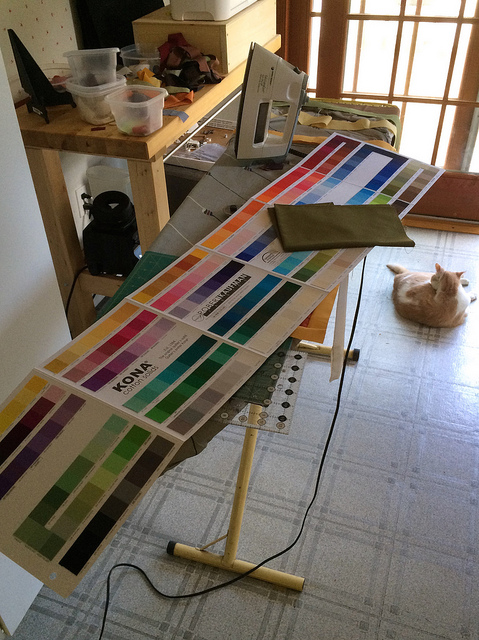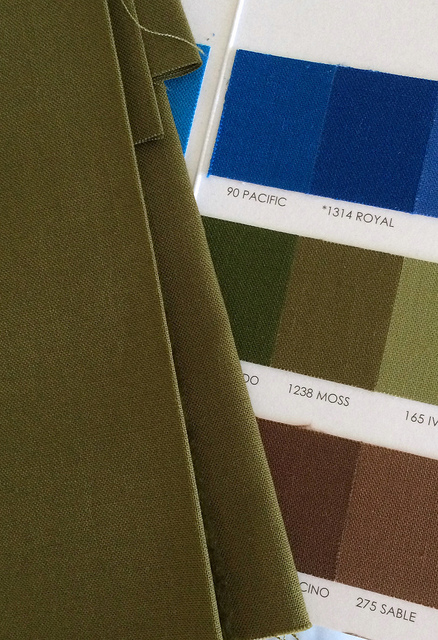 Maybe this is Kona Moss. Maybe it isn't. It's hard to tell. It would be nice if I had a sizable piece of labeled fabric  to compare it to instead of a dinky little postage stamp sized piece of fabric on a sample card.
I am enjoying very much doing my log cabin work, and I anticipate needing between 72 and 90 blocks depending on how I choose to trim them, and how large I want the quilt to be. That is math I will save for a future post.