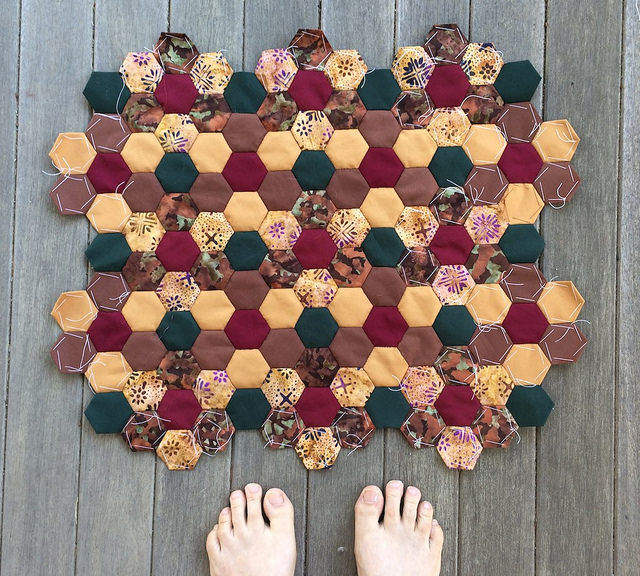 I know I'm not the first person to add their feet to a quilting blog post, but I just couldn't resist.
The pieces started going together yesterday, and a great deal of work has been accomplished already. This took me much longer than it should have for the following reason. I accidentally added a row of flowers like the one below in the wrong direction.

Ripping out the stitching and restitching would have taken enough time to be annoying. To make matters worse, I did not find my mistake until I had taken out all of the paper pieces but the ones on the outer most border of the work. My sense of order required me to rip out the stitching with no paper pieces in place for stabilization, and to reattach the row in the proper direction.  I wasn't even sure it could be done, but I challenge you to notice a difference in the quality of the stitching in the area in which it occurred. What gives away the location of this seam is the basting stitches on hexagons that were at one time on the outer border, but have since found their way closer to the center.
After removing the row of flowers and reattaching it, I was left with portions lacking stabilization as I attached the next row of solid flowers.  A lot of tedious and unnecessary work resulted from my lack of attention to the fact that I wanted the brown batik to be uppermost in position in each row of batik flowers. I'll be much more careful moving forward.
I have not counted how many batik flowers I have left, so I don't know how large I am going to be able to make this piece. I do regret that it appears as if I left behind the following two pieces in New York City when I was at the Go Congress. I could not find them in my suitcase, and I am fairly certain that I took them along with me.
The solid fabrics can be replaced, but the batik fabrics can not, so I am down five batik flowers that can never be recreated. I don't mind the work, but I do mind losing the fabric.