As a long time quilter, and more recently a hand stitching piecer, I have found the trend in the quilting world toward "quick and easy" projects not only uninteresting, but actually quite offensive.  I savor the process of hand stitching, and I put a big emphasis upon reflection when I write about my work in process. I want to give all the details about what I am doing, where my inspiration came from, how it is related to my work which came before it, and how it might lead to what I may create in the future.
I've been writing about the creation of what I consider to be my first heirloom quilt. I refer to it as my Diamond Quilt for lack of a better name.  Looking back at my posts I can see that I have written twelve posts so far about this diamond quilt. The project is currently on the back burner pending an experiment in "binding torture" that I am conducting over a three month period. I'm going to finish this quilt in a timely fashion, but I refuse to rush. Everything about it is going to be well thought out and documented including a binding meant to stand the test of time.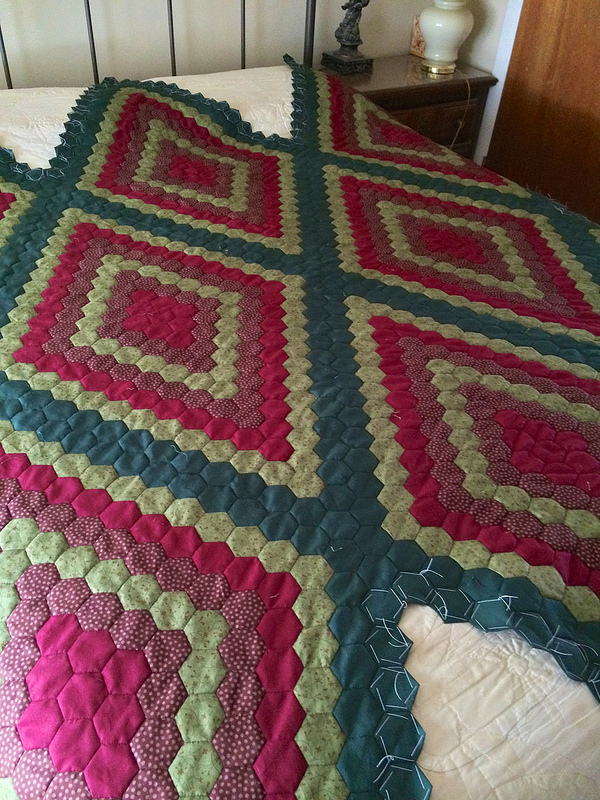 To my great satisfaction I recently discovered that there are other people in the world of fiber arts who share my commitment to detail, craftsmanship, and reflection.  These people exist not only in the world of quilting, but in the worlds of knitting, and stitchery in general. There is actually a movement afoot called the Slow Stitching Movement with Mark Lipinski at the center of its promotion, as well as its creation. On the web page for the Slow Stitching Movement you will find categories for podcasts, a blog, a gallery, and soon a magazine will also be available.
Some day when I finish my heirloom quilt I will upload a picture of it to the gallery on the Slow Stitching Movement page.  At present there is only one item in the gallery, but I am sure that will change soon.
Mark Lipinski hosted a webinar about The Slow Stitching Movement not long ago. It was so popular that he held it again on July 10th. The webinar was available for purchase through Fons and Porter, and I am proud to say that I was in attendance on July 10th.  I was quite impressed with the presentation. It spoke to me, and I left a message telling Mark that I considered it to be the best $20.00 I had recently spent on my art.  I still believe that.
If the webinar is ever available again I certainly recommend that you register and participate.