This week I was looking for some fabric that I could use to baste some hexagons with no particular plan for what I would eventually do with them. Some mindless stitching was what I needed. I discovered a bag with a quilt pattern in it along with a number of strips that I had cut to be used with the pattern. The pattern was a very easy, nonthreatening type of thing. I picked it up a few years ago to get me involved in quilting again, but hadn't used it, except as inspiration to cut a great number of 2.5 inch strips. It was my first rotary cutter experience. The pattern and the strips sat around in a bag since then. The pattern has never been used, and probably never will be because I believe that I can come up with something better on my own at this point. This pattern has "quick and easy" written all over it. It was what I needed at the time, but it isn't what I would choose for myself now.
I had actually cut about eight different fabrics to use with this pattern, but only three of the fabrics were still in the bag.  I had raided the bag previously to make hexagons for my room divider projects.
I set about cutting some 2.5 inch squares from all three of the fabrics that remained in the bag.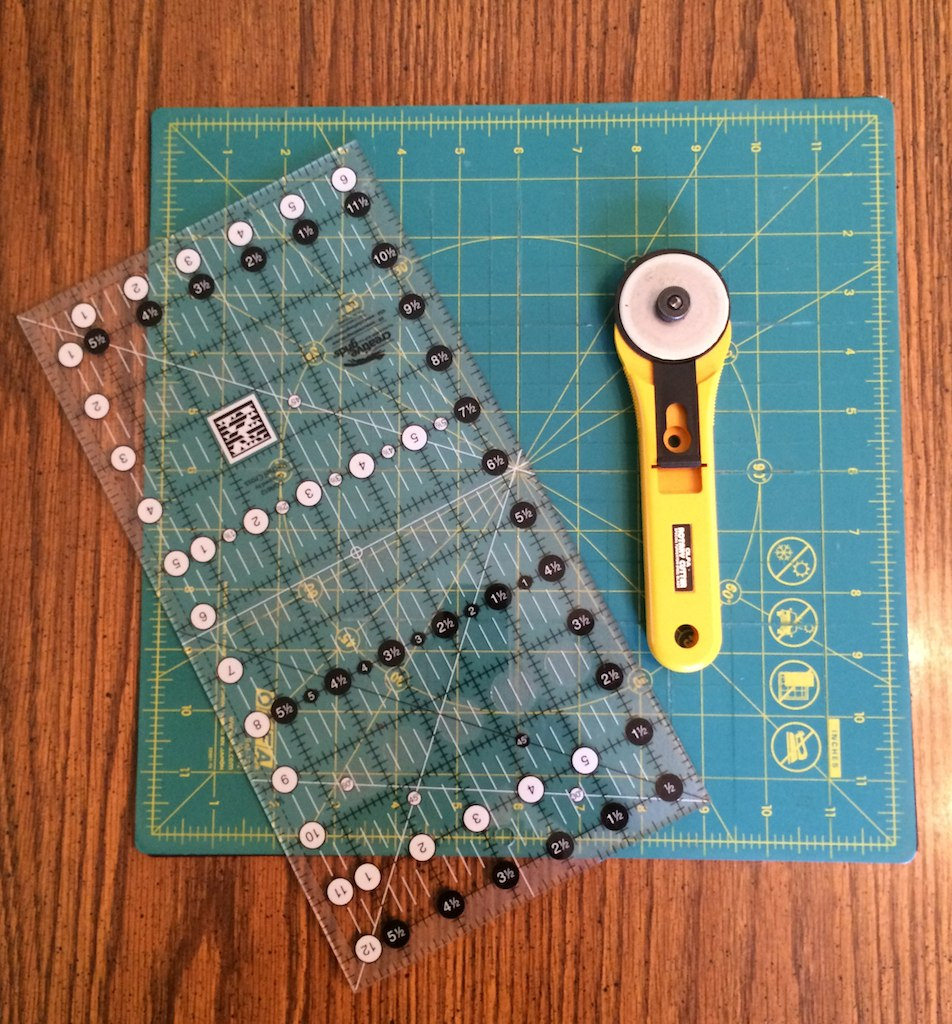 I've been busy basting hexagons with those squares, and have about 100 of them completed so far. I am focusing primarily on the batik fabric, and have started to generate some ideas.  I am planning to purchase some Kona solids to coordinate with the batik. I've got my eye on some grays and some yellows. I might use the other two print fabrics (primarily in strip form) to piece something interesting for the back of the piece along with the Kona solids. Maybe I'll even use the pattern for the back.
In addition to basting hexagons I was busy this week moving my blog from WordPress.com to Bluehost.com.  That was the subject of yesterday's post.
Soon I will be attempting to bring over my subscribers from WordPress.com, but if that doesn't work  and you have subscribed in the past, you might want to resubscribe. Wait a couple weeks before you do that though.  My domain is still not 100% set up to work with Bluehost yet.
The process of taking hexylady.com from being hosted at WordPress.com to self hosting has been nerve racking simply because I am a control freak at heart and I put this into someone else's hands because I was afraid to do it myself.  I am really feeling really good about Bluehost though. They offer free webinars, and I will be participating in a webinar today for new users.  Tomorrow I have my one on one quick start phone call session scheduled, and Wednesday I am participating in a webinar for getting started with WordPress. This company seems to offer a lot of support and resources.  Their online chat has been very helpful in answering questions, and it is great to know that they take phone calls just incase I feel that it would be better to talk.
I am linking back to Life Under Quilts as usual. If you visit over there you will see what Jessica has worked on this week and you can also click the links at the bottom to see the work of the others who link back.