This week I started to look for Kona solids to work with the prints I am currently using to make basted hexagons. I posted about those prints in my last weekly progress report.  Here they are again.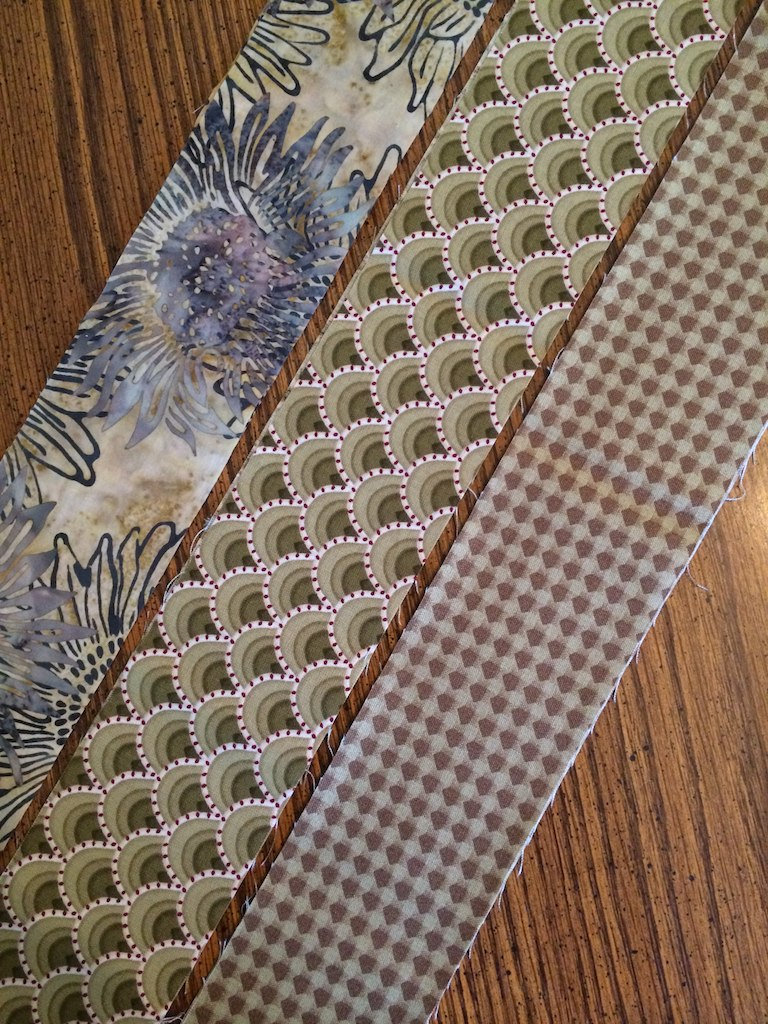 Christa commented on last week's post, and said that she loves the scallop fabric. It's nice to have someone else look at it with fresh eyes.  That prompted me to take another look at it myself.  I realized a few things about this fabric.  I love the tiny dots of maroon, which are better appreciated up close.  I also like the directional nature of the print.  I'll be taking the direction of the scallops into account when I baste hexagons using this fabric.  I am currently planning to feature this fabric in strip form on the back of the quilt that I will design from these fabrics and the kona solids I choose to go with them.
Here's the technique I used to search for Kona solid colors. I held some squares of fabric in my hand and dragged them across the rows of the Kona sample card.  Then I would stop when I came to a fabric that spoke to me, and take a photograph of it along with the fabric squares.
The photograph below shows the technique in action: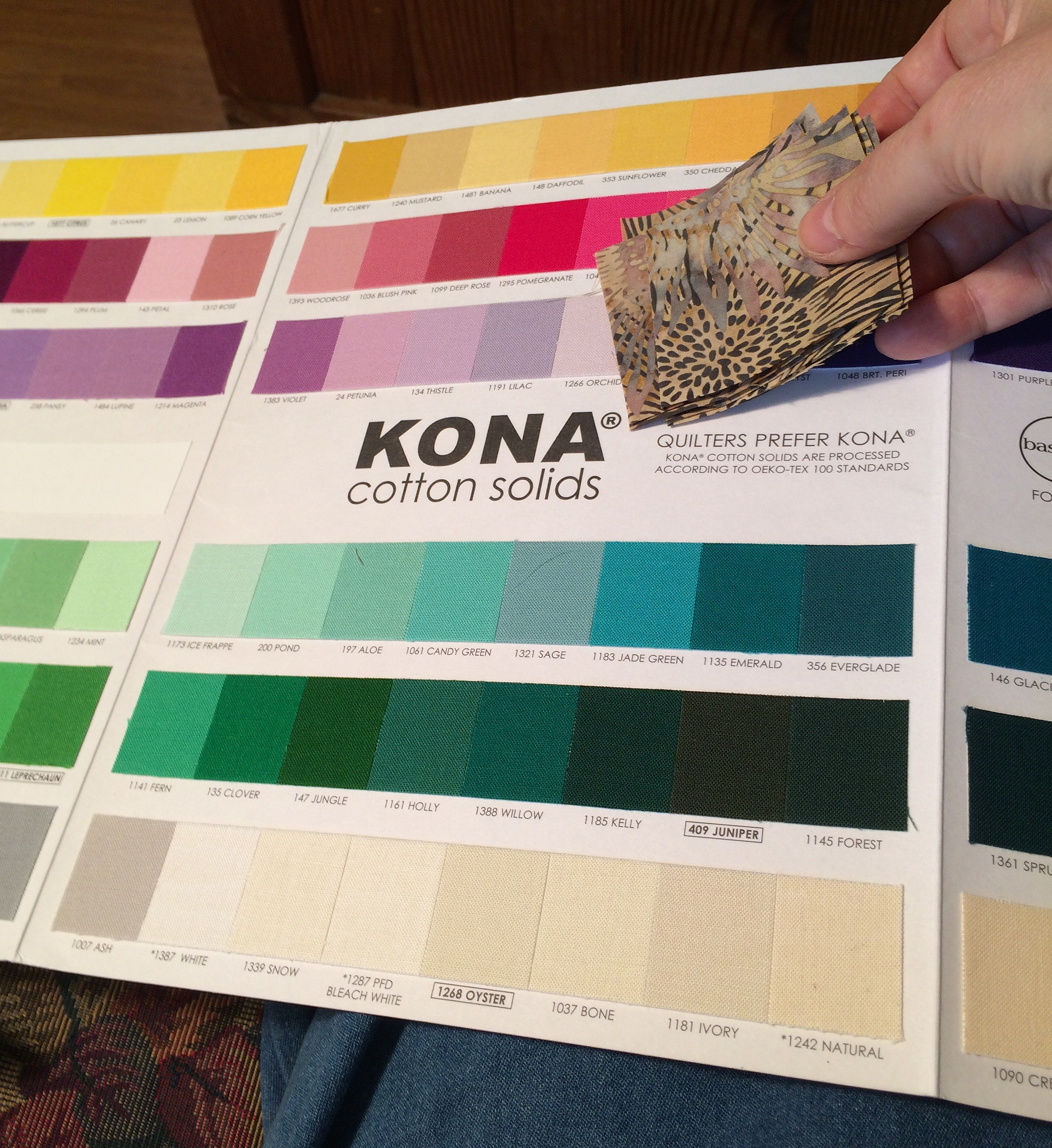 No, orchid did not speak to me for this quilt. It's just an example.
I took a screen capture of my Flickr album of fabric swatches that I photographed in my hunt for kona solids for this piece.  I won't buy them all, but this is a starting point in my search. If you want to get a closer look at any of these solids, and be able to read the names, you can view them in the album.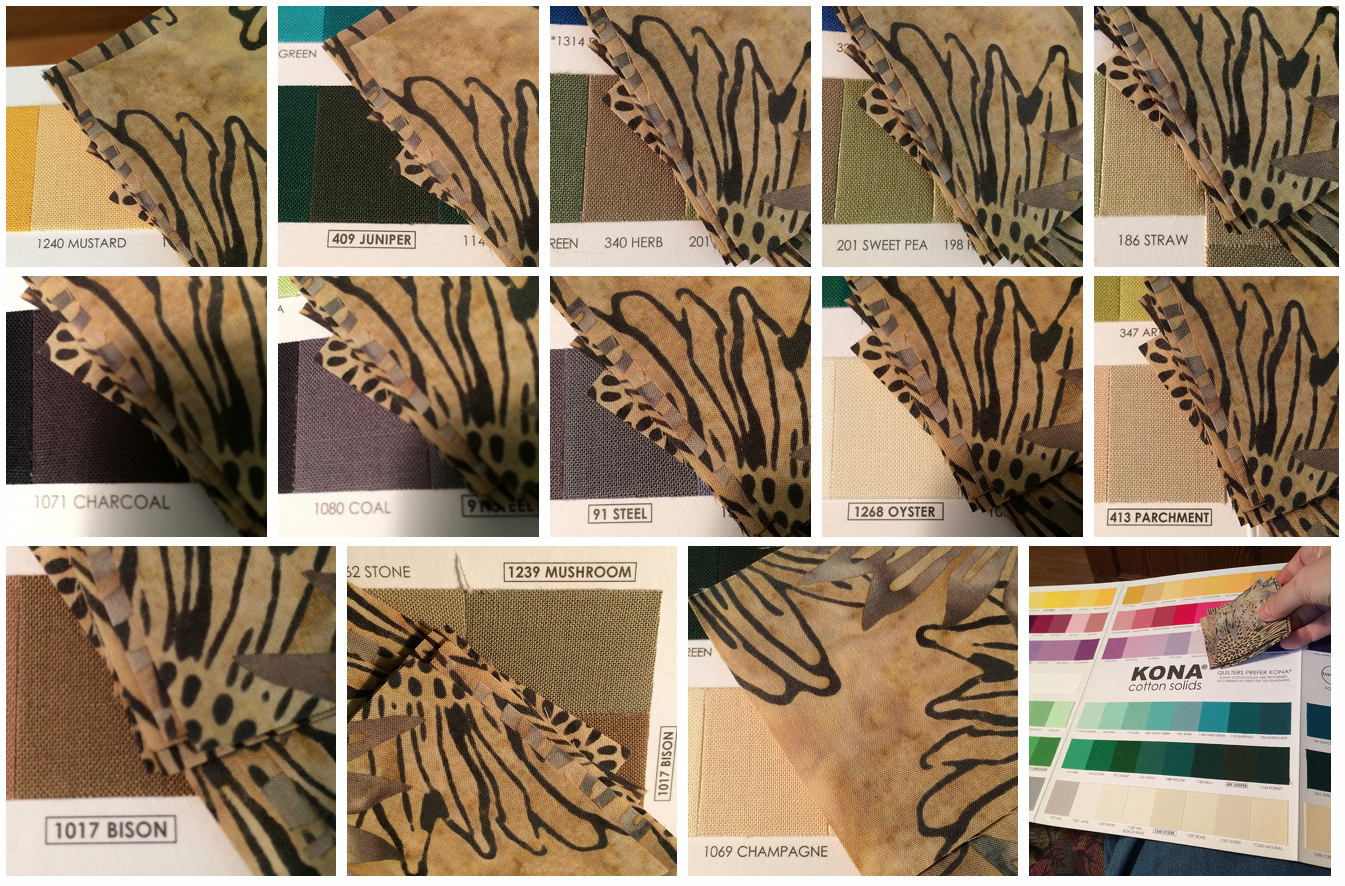 I spent my creative energies this week on thinking about planning the new project. I didn't get any actual basting or stitching accomplished.
The only stitching I have done this week is to continue to work on stitching together a successful web site.  I've been reading the 2nd edition of "WordPress: The Missing Manual".  I bought it directly from O'Reily Media as a hardcopy/digital package that includes DRM free digital versions of the book.  I'm reading it on the Kindle App while I am waiting for the hard copy book to arrive.
I must say that I am really enjoying my experience with Bluehost so far.  The introductory webinar session was excellent.  The one-on-one Getting Started Session was great.  My guide for the session took into account that I was already an experienced WordPress user, and tailored the session to my individual needs.  When I verified my account recently on the phone, to be able to check out with a new domain I wanted to register for my grandson, I had a nice conversation on the phone with a guy who talked to me at length about what I hoped to accomplish with my site.  So far it has all been great with Bluehost.  They are always happy to answer my questions, they understand that newbies need some hand holding, and they have great resources available.
I am linking back to Life Under Quilts as usual. If you visit over there you will see what Jessica has worked on this week, and you can also click the links at the bottom to see the work of the others who link back.  Those of you who have come here through the Monday Morning Star Count linkup might enjoy my other posts since last week:
Now and Then: Cutting Fabric
I'm Onboard with the Slow Stitching Movement