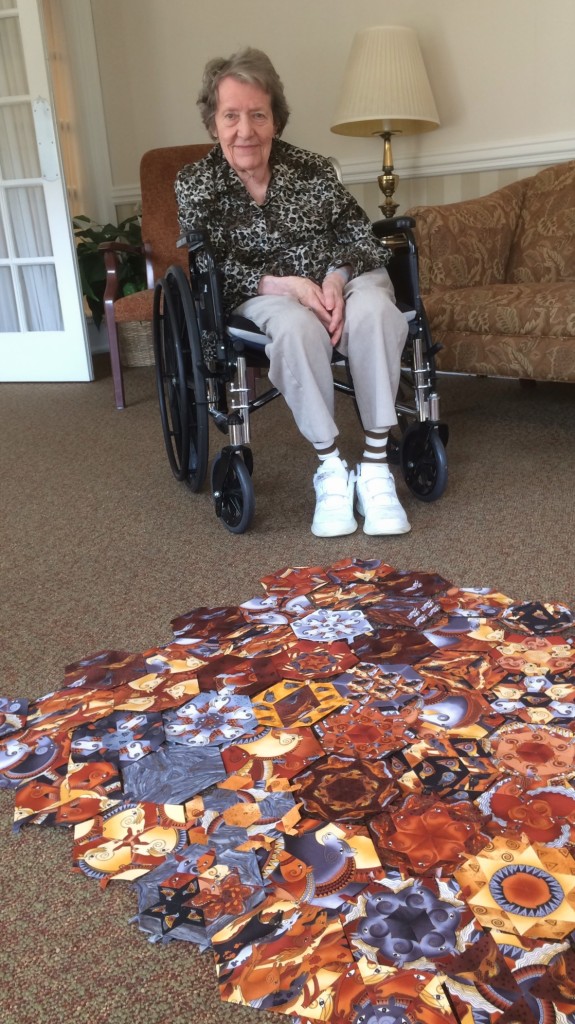 On March 9, 2016 my husband and I drove out to visit my mother. What I didn't know at the time was that it would be the last time I would see her. We sat together and looked at the hand work I had been doing. I had gotten into the habit of bringing my stitching to show when I visited because it gave us something to talk about. I passed Mom one block after another that day. As we looked at the pieced hexagons I had been making we talked about each block.
Only because I blog did I think of arranging the blocks on the floor and taking a picture of them with my mother that day. I thought it would  make a nice blog post, but it turned out to be a visual reminder of my last interaction with my mother. Because I had recently been revealing my blocks five at a time here, and there are blocks in this photograph that I had not yet revealed, I had been waiting to make the blog post with the image of my mother.
Two weeks and one day after our visit I got a call saying that my mother had peacefully passed. We were all surprised. I was happy to learn that my sister-in-law had spent two hours with my mother the night before she passed. Mom seemed healthy and was in high spirits, so it was quite a surprise when my sister-in-law called me the next day to deliver the news of Mom's passing.
It has been a difficult month since then. It is a month to the day since Mom passed away, and not a day goes by that I don't wish I had driven out more often and called more frequently. I've been stitching as much as usual, perhaps more so, because it gives me comfort. However, I have taken a vacation from blogging. It seemed somehow wrong to celebrate anything, much less my stitching.
I knew that I could not return to the task of reporting on my day to day stitching until I had paid tribute to my mother with this post. That is what I do today.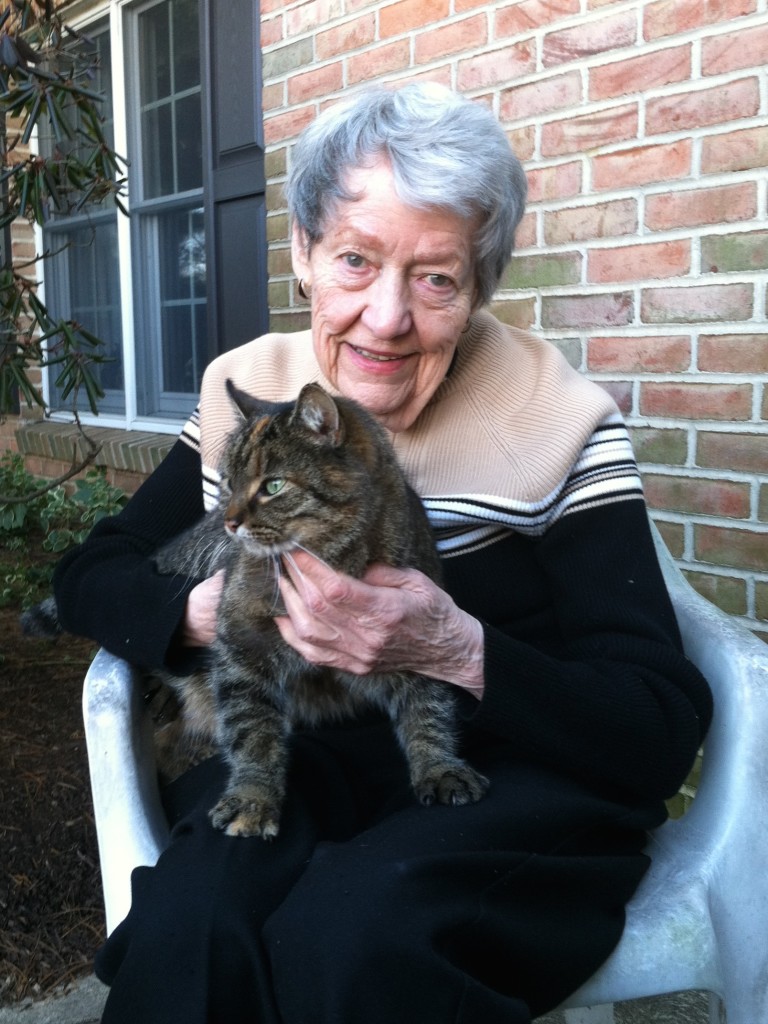 Here is a picture of Mom from a little over four years ago. It was taken the day that she left her apartment at Dock Woods to enter the memory facility on site called Harmony House. Mom is holding the feral cat she took care of named Rusty who now continues her feral existence in the neighborhood where my sister-in-law lives. Rusty was transplanted a couple of miles, and she made a remarkable transition. Rusty didn't turn out to have the temperament to be an indoor cat, but she does walk with my sister-in-law and several dogs around the neighborhood most evenings much to the amazement of those who witness it.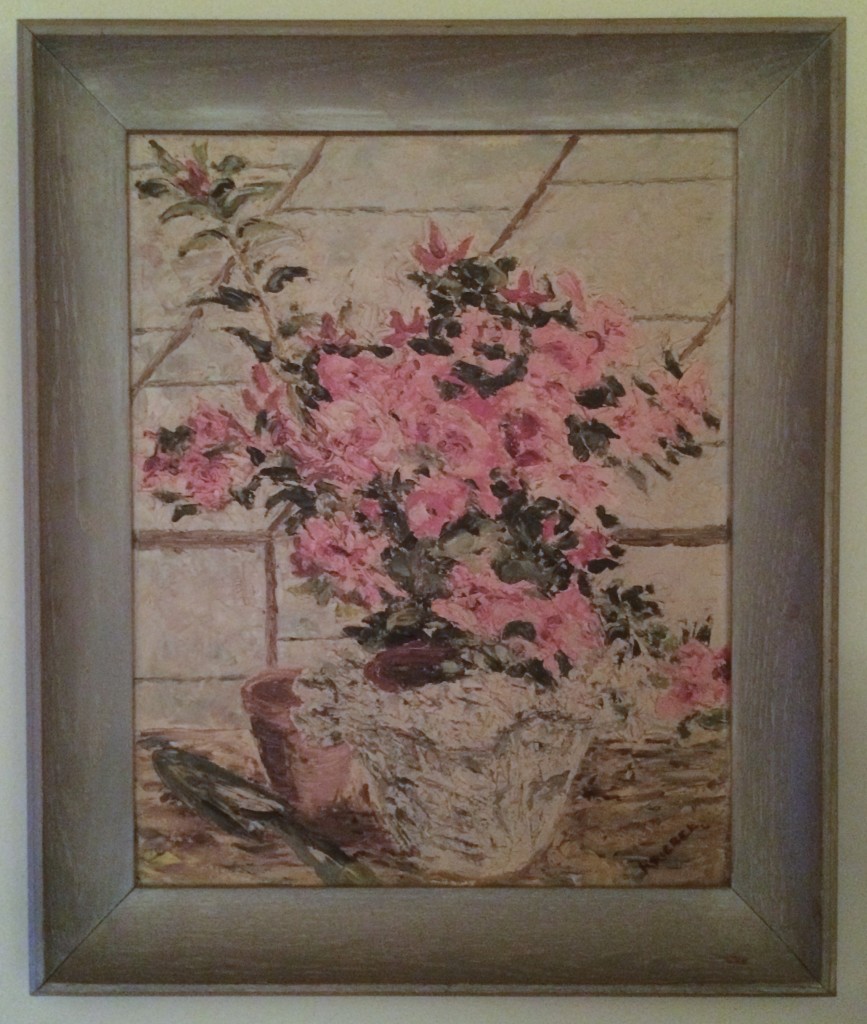 My mother happened to be very artistic. When I was a very young child she painted a few oil paintings. One of them was of my brother playing in front of a barn at the farm where my grandmother lived until I was about five years old. One of the paintings was the flower still life pictured above. Mom wanted me to have this painting, and I have given it a place of honor in my bedroom. I see it every evening when I spend time with my iPad before bed. I also see it every morning when I drink coffee in bed with my husband before starting our day.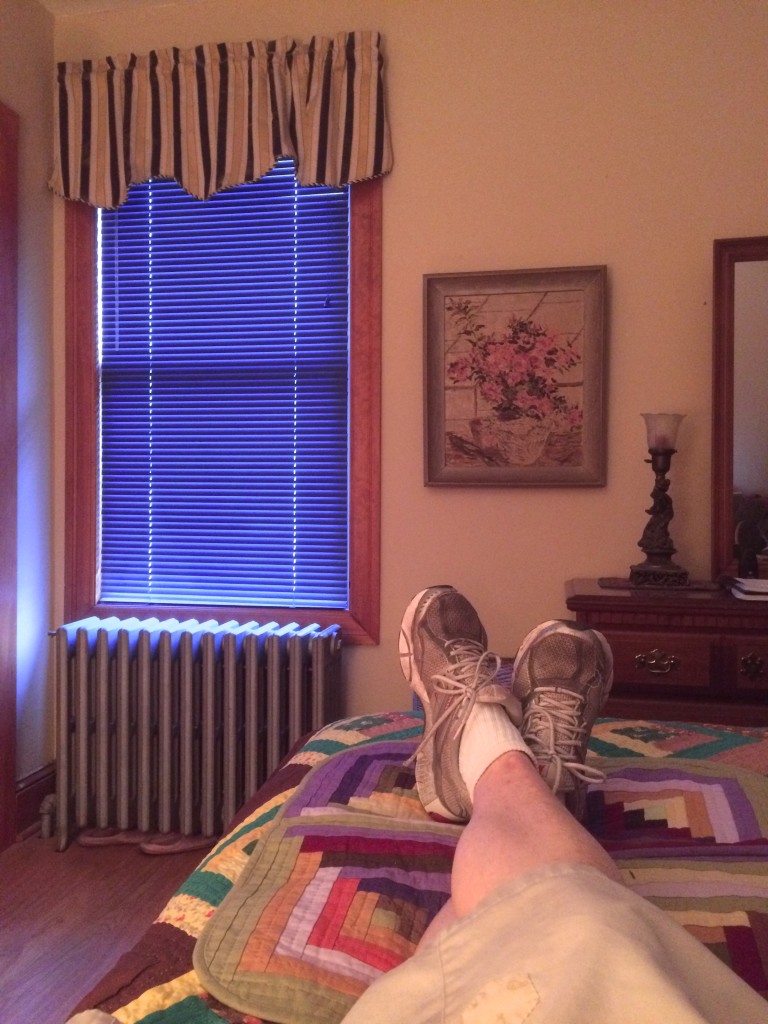 I have a reminder set to go off on my Apple Watch every evening at 7:30. It says, "Bedtime Call". I set it because that was the best time to reach Mom, and I didn't want to lose track of time and be unable to call because it had gotten too late in the day without my realizing it. That reminder remains on my watch, and every time I see it I wish that I could still call. I may remove the reminder some day, but for now I enjoy it as a moment to remember Mom each day, and to wish that she could still be here.