Last week my husband, Ted, and I drove to the Michener Art Museum to see Mark Lipinski, Liza Lucy, and Meg Cox demonstrating hand stitching. They were doing hexagon Blocks from the Glorious Hexagons QAL. While we enjoyed seeing the demo immensely, and especially enjoyed seeing Mark Lipinski out and about and looking good, the main purpose of the visit was to see the Kaffe Fassett exhibit called Blanket Statements. The secondary purpose of the visit was to see if I could drive to the museum on my own the following week. I was schedules to demonstrate hand stitching myself with three other women on behalf of the Central Jersey Modern Quilt Guild and I didn't want to bother my husband to drive me. It turned out that we got seriously lost on the way to museum, so my husband said he would drive me yesterday for my demo, and he did. What a sweetie he is.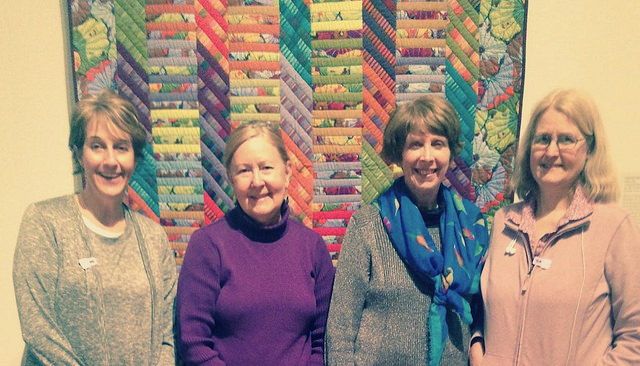 Here we are, the representatives of the CJMQG, in a picture taken in front of one of the Kaffe Fassett quilts. From left to right we are Janneke, Linda, Lee, and Terri.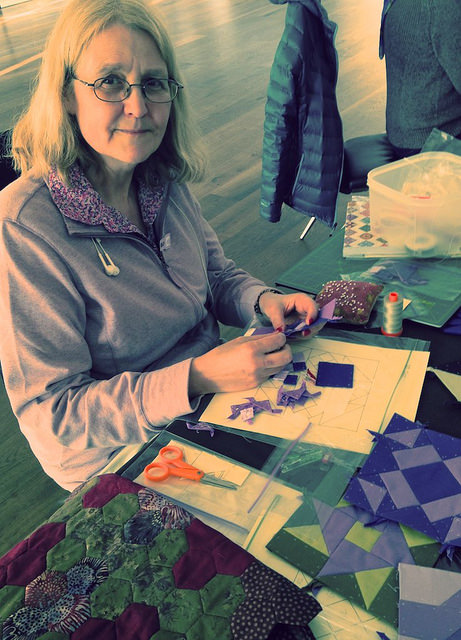 Here I am sitting at my space working on the Farmer's Wife Quilt.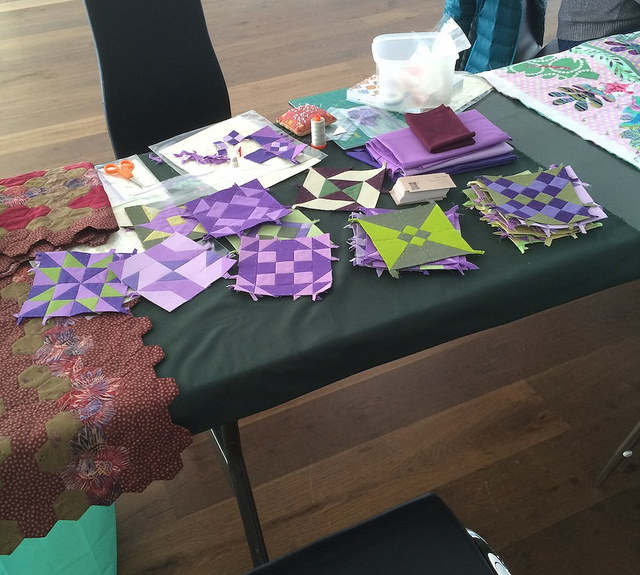 I brought some Kona Hunter Green fabric to cover the table to set off the display of the Farmer's Wife Quilt blocks that I have completed so far. I brought 25 blocks with me. I actually left 12 blocks at home, so I guess that means I have 37 blocks finished now. Even paring down to 25 there was no way that I was going to be able to lay them all out, so I just spread them out a bit and encouraged people to pick them up to examine them.
I answered a lot of questions about English Paper Piecing and talked about how I was going to be laying out and sashing my blocks.
In addition to the Farmer's Wife Quilt blocks I also brought some traditional hexagon paper piecing work I had done when I first started up quilting again a couple of years ago.
Here are the Farmer's Wife blocks I brought with me:





We demonstrated from 1:00 PM to 3:00 PM and we had a fantastic time. We all agreed that the time simply flew by. I looked at my watch at about quarter to three and simply could not believe that we were almost finished. I could have stayed another two hours easily. With all the talking we did none of us got much work accomplished, but that wasn't the goal of the demo. The goal was to engage the visitors, and I think we were a hit in that respect. A lot of people stopped by to talk with us, and seemed to be very interested in what we were doing. I remembered to bring my business cards with me and encouraged people to take a card and visit my blog. One lady even asked if I was available to speak at guild meetings. I was surprised and flattered. Who am I kidding, I was thrilled. When she asked I said, "Oh, I never thought of that. I suppose I could talk about paper piecing and do a trunk show." However, I don't feel worthy of that. I've got to work on my feelings of self worth. I am reading "The Artist's Way" so that should help.
Interestingly enough, after a cursory glance at what we were doing one of the visitors said, I thought you were a modern quilt guild. And I said, "They wouldn't let us bring machines." With that said she understood. I also pointed out that I considered my blocks modern because they were made strictly of solids.
One last thought… Why is it that the longer I quilt the more I look like my grandmother? In the pictures below I am 62 and she is 19.