We have had a short vacation away from assigned blocks on The Farmer's Wife Quilt. As much as I promised that I would get ahead, I barely kept pace. I put off the two blocks assigned a couple weeks ago, and took my good old time finishing them this week.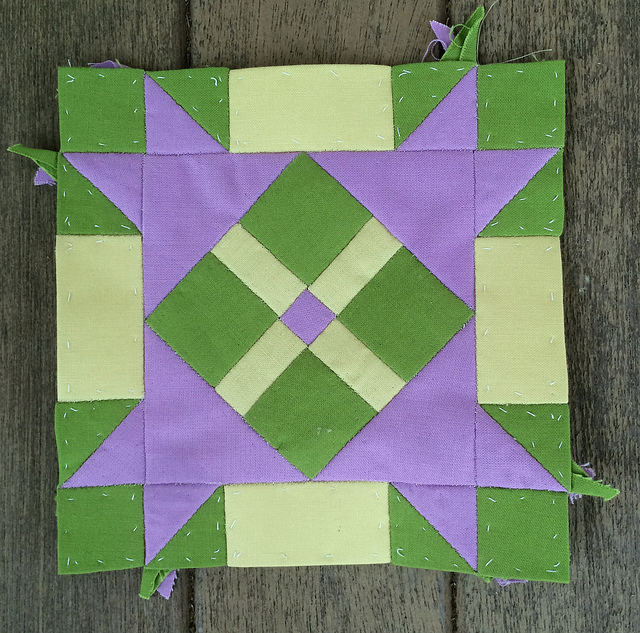 #9 Autumn
Autumn uses the Kona Solids:
Pansy, Peridot, and Celery
When I first looked at Autumn I did not like her at all. I knew that I had to change her to suit myself. Quite frankly, I found her boring. I decided to start piecing her from the center. After finishing the square with the four Pansy colored triangles in the corners I knew that I wanted to make the outer rectangles with Celery rather than Pansy. This way the small inner rectangles would not be so isolated in the block. This would also fix my biggest complaint about Autumn. She was boring because she used the same color for three separate contiguous areas of the block. BORING! When the large outer rectangles were no longer assigned to Pansy that problem was immediately solved.
Now Autumn is one of my favorite blocks. Even though the little Pansy triangles are the same color and contiguous with the larger Pansy triangles they are more interesting to me now as they peak out from the center square.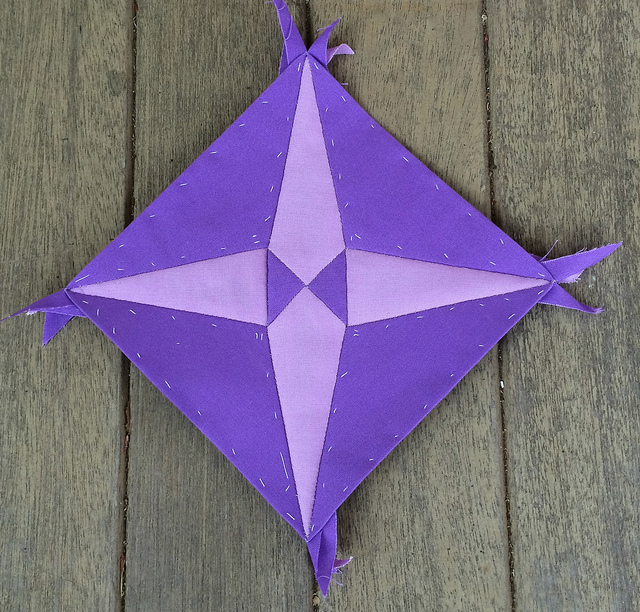 #86 Priscilla
Priscilla uses the Kona Solids:
Morning Glory and Pansy
The interesting thing about Priscilla is that English Paper Piecing allowed me to make her with fewer pieces than called for in the design. I was able to combine a few pieces that in the original design were the same color, but composed of multiple pieces.
Next week I should be receiving a new assignment of two or three blocks. Back to the old grind.