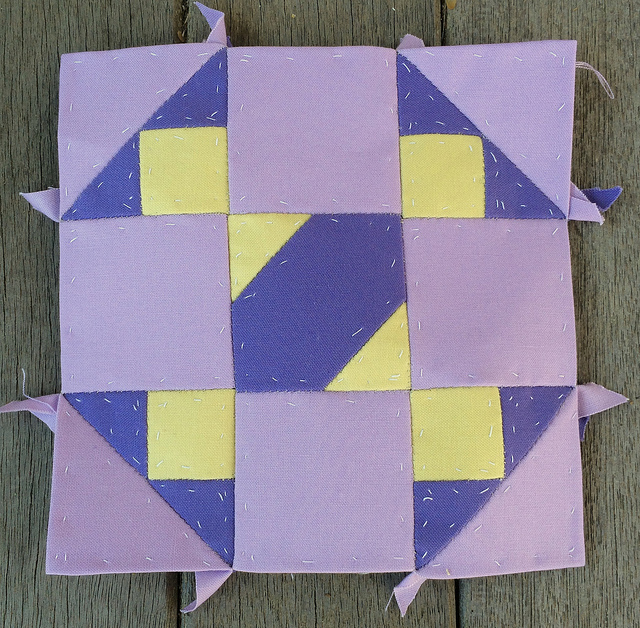 #10 Ava
Ava was made with the Kona Solids:
Amethyst, Thistle, and Celery.
The week started off with the assignment of Ava. It just so happens that I had completed Ava when I was at the CJMQG Retreat in November. So I started working on another block in her place so I would keep my position ahead of the crowd. I won't reveal the name of the block until she is assigned. Later in the week Daffodil was assigned.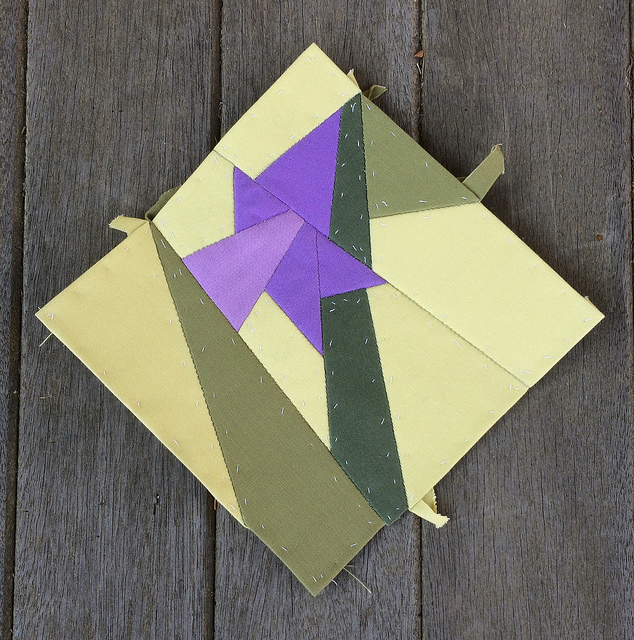 #26 Daffodil
Daffodil was made with the Kona Solids:
Celery, Pansy, Wisteria, O. D. Green, and Sweet Pea.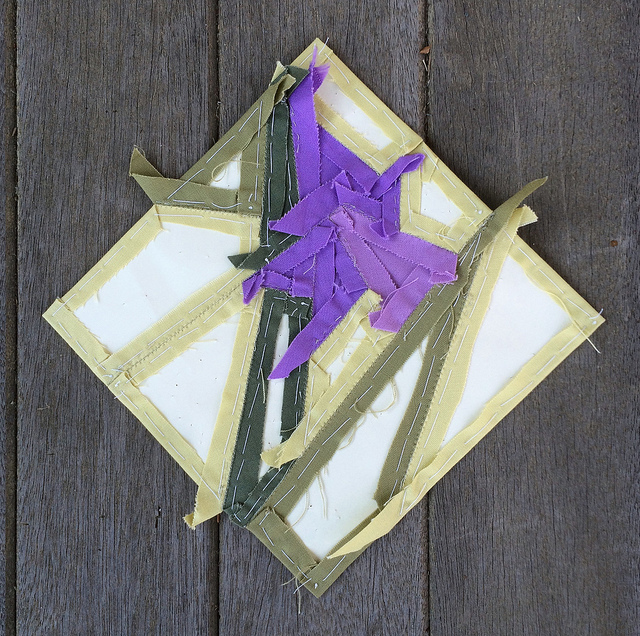 Daffodil From Behind
I was lucky enough to see some examples of Daffodil before I started work on her. There were a few wonderful versions of this block that utilized a greater number of fabrics than the prescribed three. Although I had taken a bit of a pledge to remain true to the number of fabrics called for, I decided to break that promise for Daffodil in order to make her a bit more dimensional. I also decided to make the flower purple. I could have used two very yellowish greens such as the Celery pictured here in the background, but I felt that if I was going to not make the flower yellow that I should make it purposefully not yellow, thus the choice to go with violets.
Daffodil is the first block that I have felt compelled to display on point. This block screams to be displayed on point. And while half of the blocks will eventually be positioned on point for the final quilt, they will not be displayed that way unless they scream for it as Daffodil does.
Daffodil was much harder to make than I anticipated. Here are a few process photographs of Daffodil.
Daffodil is one of those blocks with pieces that must be turned backwards before you pin them to the fabric and cut the fabric. If you don't do the reversal the pieces will not fit together. If you reverse none of them they will fit together, but the image will be backwards, which is actually not a big deal. However, if you start reversing the pieces you must reverse them all.
I came up with the idea of labeling the colors of the pieces, which also served to remind me to reverse them. If I pinned the piece to the fabric and I could still read the color symbol I had failed to reverse the template. I did this at least three times and actually basted the pieces before I discovered my mistake. I had to do those pieces a second time. I am a slow learner apparently.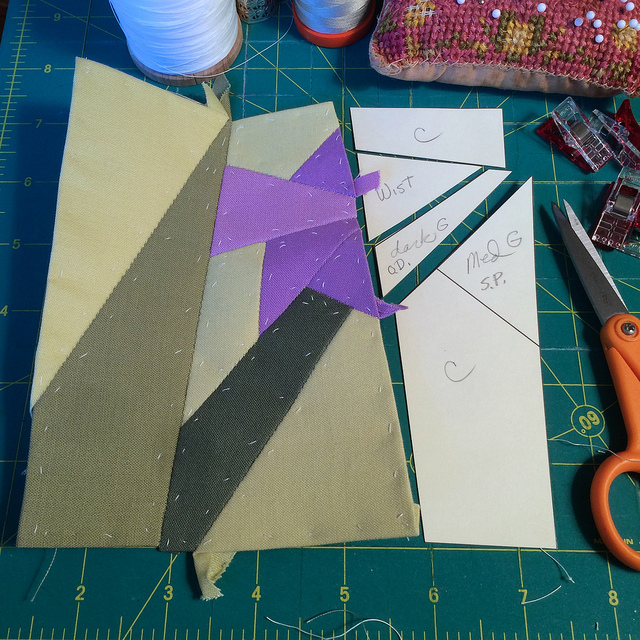 I am "attending" the Link Up Party over at Gnome Angel.