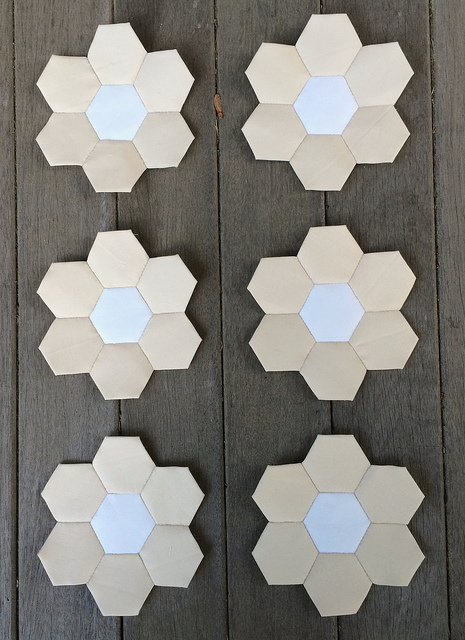 This has been a slow week for progress on the Low Volume Quilt. I spent most of my time making sample flowers for the 23 new Kona solids I purchased, and blogged about them on Friday. My sewing arm is giving me quite a bit of trouble as a result, so I am going to have to give it some rest this week. I'll get back to the log cabin work, and next Monday I will discuss a new EPP project I will have in the works soon.
In spite of my arm pain, I did manage to cut into a new fat quarter from the Kona "Not That White" collection and make some flowers using it. The color is Sand, and I made six flowers with it for potential use in the Low Volume Quilt. I say "potential use" because this whole project is being done in a totally spontaneous way, and I can't be sure until I have enough variety of solids and patterns how the final quilt will come together. I'm not keeping count anymore, but the total is well over 100 flowers by now.
I am linking back to Jessica's Monday Morning Star Count as usual. Since it has been two weeks since we have linked back, those of you coming here from the Star Count might want to scroll down quickly to August 24, and then scroll back up in a more leisurely fashion. That way you will see (in order) what I have been up to during the interim. I won't use a permalink this week. That will allow you to scroll down.