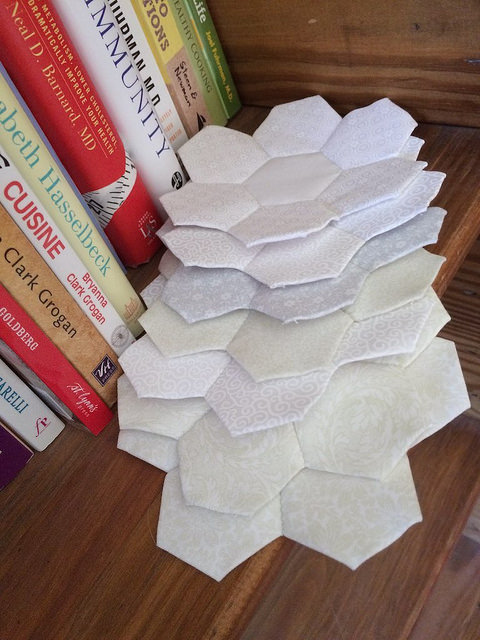 As of last week I had 24 flowers complete for the low volume quilt. This week I added seven flowers to that pile making a total of 31 flowers so far. All seven of the flowers above are made with different fabric patterns.
I spent a good deal of time this week sorting out my low volume hexagons so they are matched up and ready to sew into flowers. I also basted quite a few Kona Snow solid fabric hexagons for the centers of flowers.
Seven flowers isn't all that much progress in one week, but I have a very good excuse. I have been doing a lot of log cabin work, and I posted about it last Wednesday. A follow up post will be coming shortly.
I am linking up with Jessica's Monday Morning Star Count over at her blog Life Under Quilts.
Jessica has been posting a lot on Instagram these days, and I started following her there today so I can see her work unfold. She has a good point when she says that it is easier to post to Instagram as she is sewing than to stop and write a full blog post. My local quilt guild members seem to like posting to Instagram, and the guild itself has it's own user name there, so I am already following a few accounts over there. Instagram seems to be the hot thing for quilters these days, so I had better get with it and get more involved with that aspect of social media.
If you want to follow me on Instagram search for "terrischurter". A search for "hexylady" or "hexy lady" also works since I have changed my real name to "HexyLady". "Hexy Lady" did not work as well in searches.