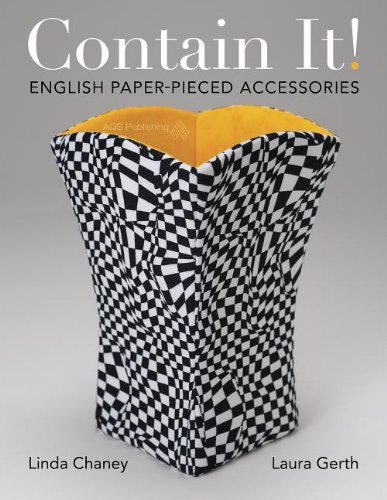 I was pleased to be asked to participate in the blog hop celebrating the one year anniversary of the publication of the book "Contain It! English Paper-Pieced Accessories" available from Amazon.
Don't order the book just yet though, because if you comment below, you will have an opportunity to win an autographed copy of the book created by the mother/daughter team Linda Chaney and Laura Gerth. Make sure you visit the other five blog hop destinations to optimize your chances of wining. I'll be listing those web addresses further down.
I'll start by saying that making containers was a bit outside my comfort zone. I had never worked with stabilizer before, and I had never made any dimensional objects with fabric, not even a hand bag. My experience with English Paper Piecing helped me a great deal in grasping the fundamentals put forth in the book, yet I wasn't sure that I was going to be able to pull this off. I did all the work using hand stitching even though some of the steps could have been achieved using a sewing machine. The book includes clear instructions on how to make a great variety of projects, and I was drawn immediately to the convex vase collection. However, I decided to start off slowly, and easily, with a flat hexagon coaster. I finished up big with a convex vase with a hexagonal base. It is only fitting that I should have started off and ended my journey with hexagons.
Here is a group photo of the projects I created from the book: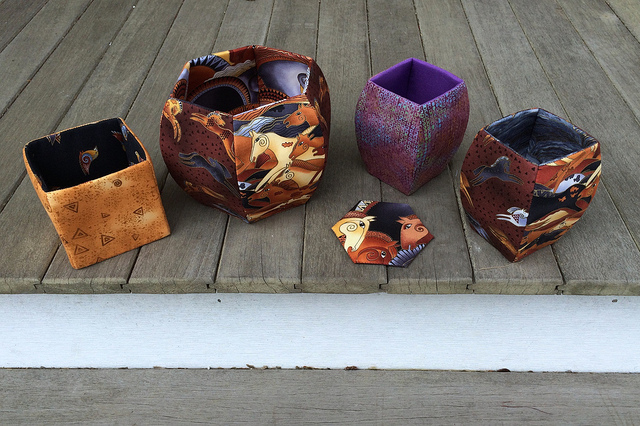 Which of these it not like the others? I obviously deviated from my color pallet somewhere along the line.
Here is my first project, the comfortingly flat coaster.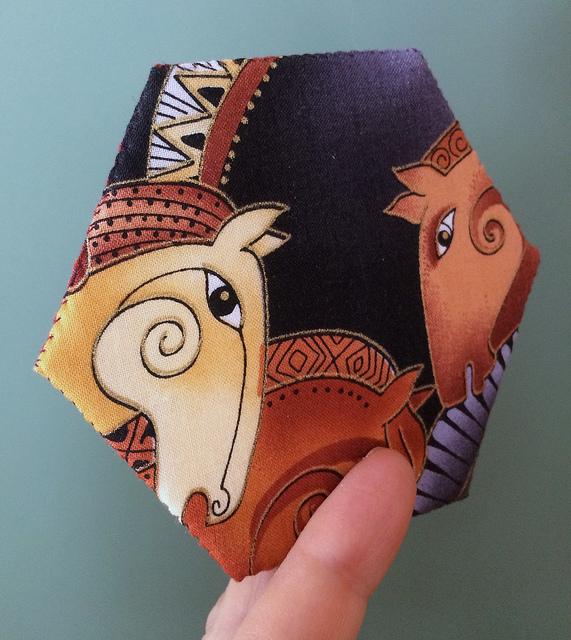 I was very proud of myself after making this little object, and felt that I had built up enough confidence to try making a cube shaped container.  I was definitely NOT yet ready for curves.
Here is my cube viewed from the top and from the bottom: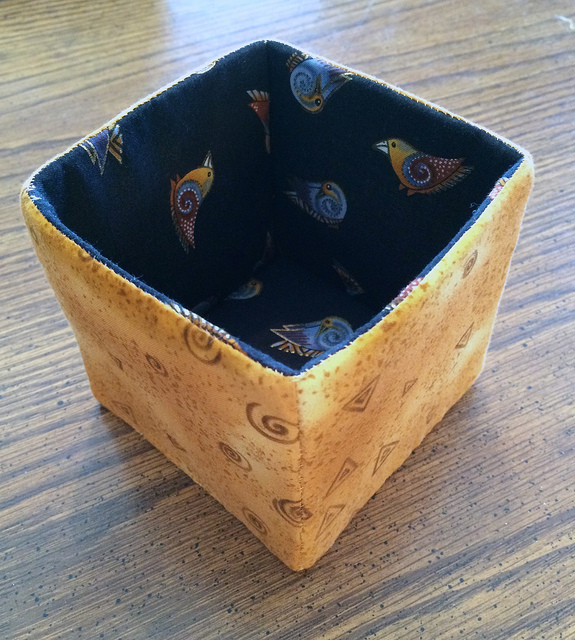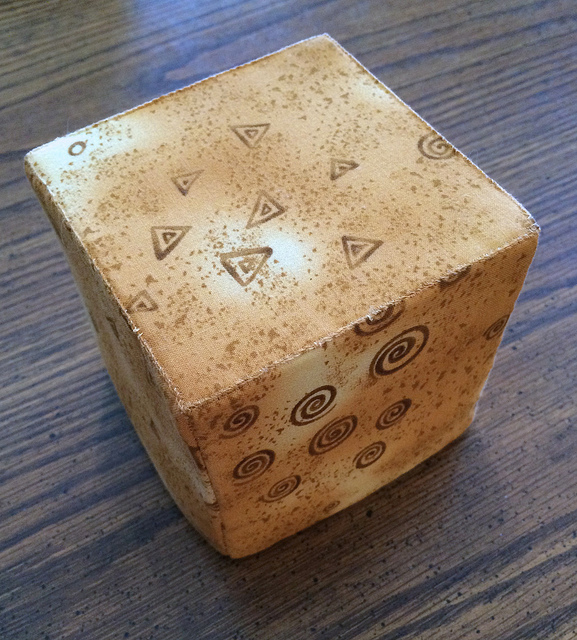 I might point out that sewing up the side seams of the cube required a major leap of faith on my part because I could not imagine how I was going to be able to fold back the outer sides to cover the inner sides. Remember my lack of experience with stabilizer material?
I was so proud of myself after making the cube and feeling a great deal more confident. I decided that it was time to tackle curves. All projects in the book require that you create plastic templates by tracing patterns provided in the book, which happens to be the most difficult step, in my opinion. That step becomes harder when you make containers with curves because you have to freehand your tracing on the plastic template material with a permanent marker. You can't rest your marker against a ruler or a quilting cutting guide. Don't let that put you off though. Sure, I was nervous free handing it, especially for the stabilizer shapes, for which accuracy is most important, but I relaxed and got better at the task. You will too. Using doughnuts of removable tape to hold the plastic to the book helps.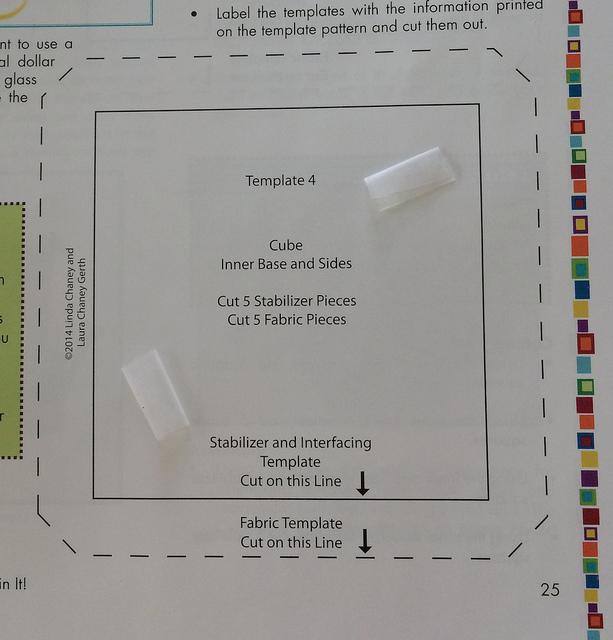 I also used doughnuts of tape to hold the templates in place while cutting around them on the stabilizer material and the fabric.
Here is my first convex container: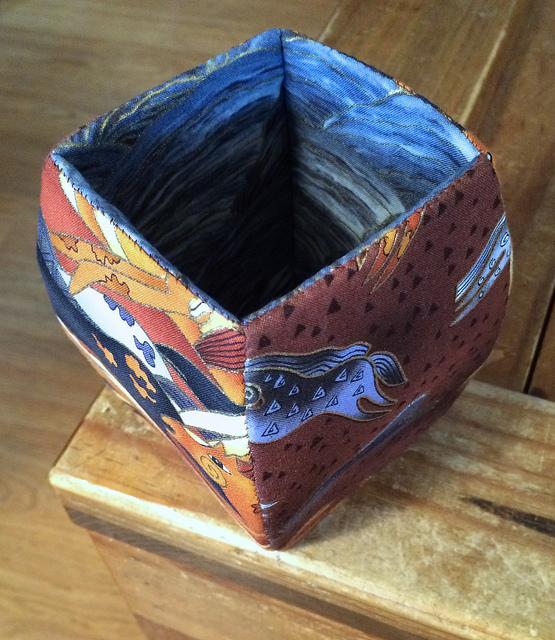 After making the above container I ran out of template material and had to order more, so I deviated from my color pallet and made another convex container using the same templates as I used for the container above.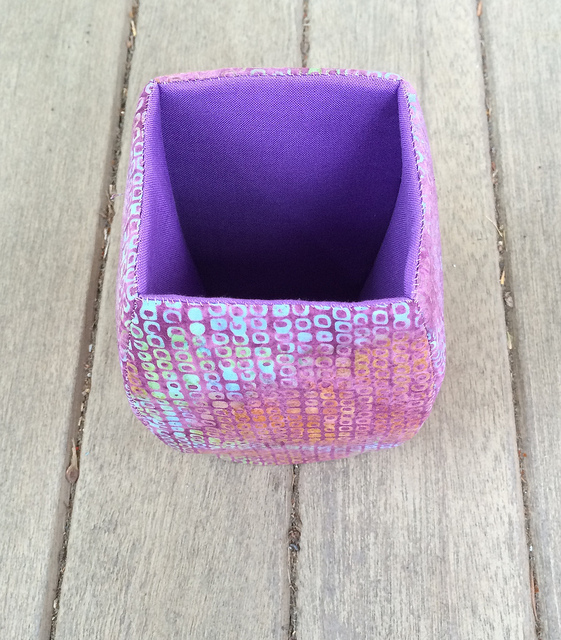 Here is where you get to see a few process photos showing how the outer sides actually DO fold down over the inner sides. You will not need to make a leap of faith after seeing this: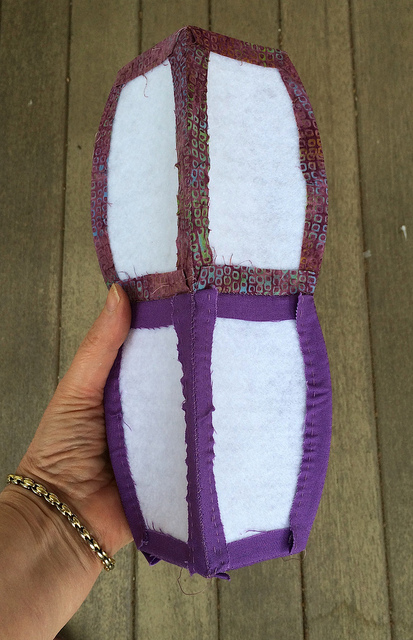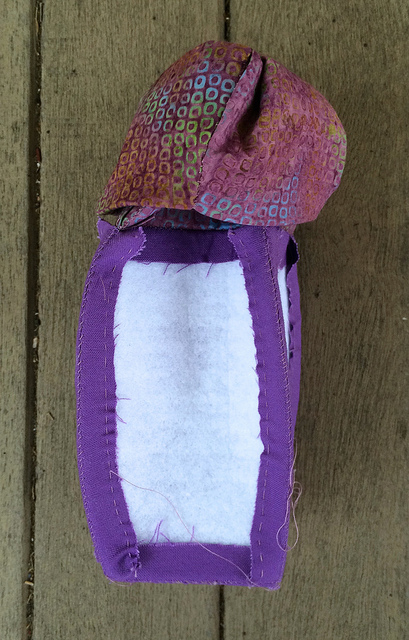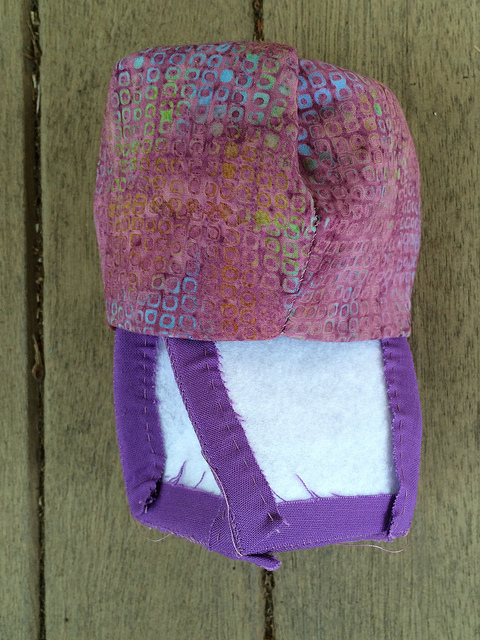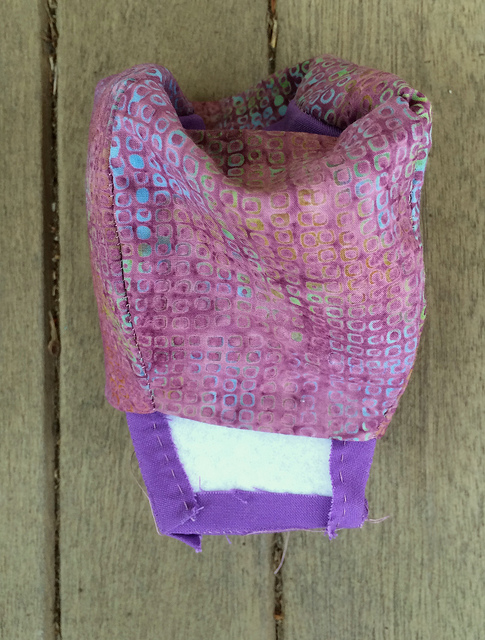 When the top gets close to the bottom it almost pops into place.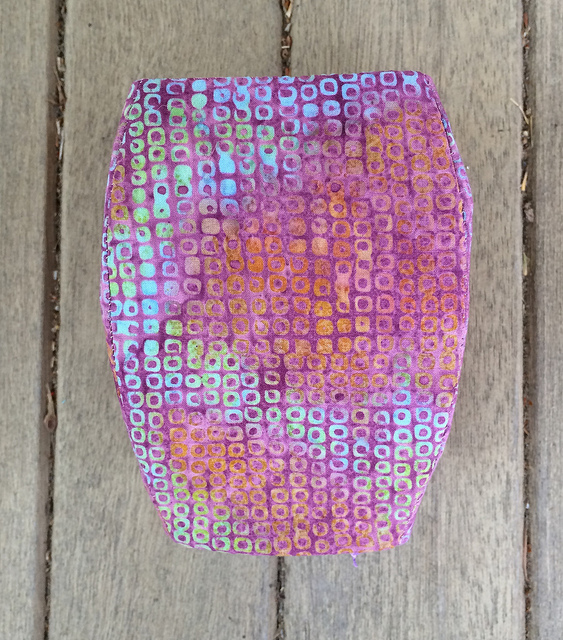 I have to say that making the same container a second time made me realize that even that small amount of repetition makes these containers a great deal easier to make. I developed a workflow. The basic concepts sank in for me, and I didn't find the need to keep checking the steps in the book to make sure I was doing things correctly. I found the process quite relaxing once I really knew what I was doing.
Things really fell into place for me on the final project, and I had a great time making it.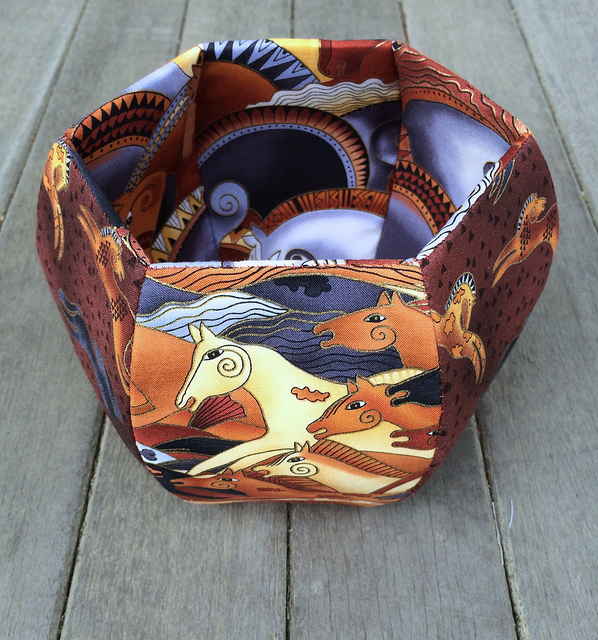 What's next? I am definitely not finished with containers. That's for sure. I've got my eye on the Scalloped Bowl Collection.
I have taken a great number of process photos for these projects that will give you an idea of what is involved in making them. You can find them in a Flickr Album entitled Containers.
For me these containers are the ideal Guild exchange project. Our guild has an annual Christmas Secret Santa event that I never participated in because I didn't know what I could make that would take a reasonable amount of time, reflect my personality, and also be appreciated. Now I think that the Large Convex Vase with Hexagonal Base will fit that bill nicely.
Add a comment below for your chance to win a copy of the book, and don't forget to visit the other stops on the blog hop for more container fun. I will be keeping the comments open until next Friday, so check back to see who wins the following Saturday. Make sure that your email address is associated with your comment, or appears in body of the comment, or I won't be able to contact you if you win to ask for your mailing address.
Blog hop participants:
April 13 Daryl Perry of Patchouli Moon Studio
April 14 Debbie Voigt of Around the Strawberry Patch
April 15 Christa Watson of Christa Quilts
April 16 Andrea Taddicken of Knitty Bitties
April 17 Terri Schurter of Hexy Lady (That's Me, and you are here.)
April 18 Ren Murphy of The Inspired Wren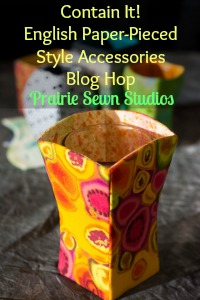 Disclosure: I received a free copy of the book so I could participate in the blog hop, but the opinions expressed are my own.