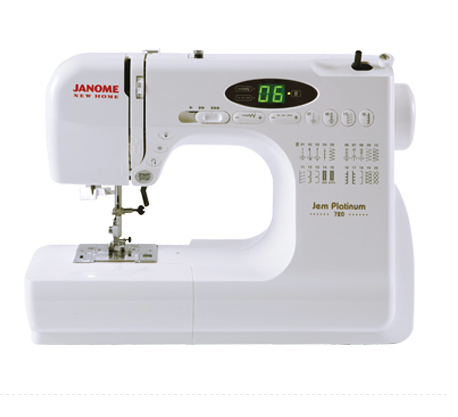 It was not an easy decision buying a new machine. I have an old New Home that was manufactured in the 1960s or 1970s. Though I learned how to sew on a Singer treadle machine that was converted to a motorized model, the New Home served me well during my First Act In Fiber Arts when I made my first few quilts back in the 70s and 80s. The problem with the machine is that it is very heavy, and loud. I was unable to find a manual for it online and I don't even know how to oil it, which may be why it is so loud 🙂
In any case, I am attending a quilting retreat in April, the first Slow Stitching Movement Quilting Retreat in Lambertville, NJ, which is just a hop, skip, and a jump from where I live. However, I will be staying over at the hotel to get the full retreat experience. I had considered attending the retreat with no sewing machine at all since I mostly paper piece, but there are going to be skill building exercises as part of the activities, so I felt as if I would be missing out on a lot of new knowledge if I did not have a machine. I was embarrassed to consider bringing my old noisy New Home, and decided to start shopping for something better.
At first I thought I might get the Juki TL-2000Qi Sewing and Quilting Machine. When I went to American Sew and Vac to try it out they did not have it. They showed me the Janome 1600P-QC High-Speed Straight-Stitch Machine. I liked it a lot and noticed that the Janome machines are actually New Home machines. I learned that Janome bought New Home. So there was a certain level of sentimentality associated with being able to continue using a New Home machine since that was what I learned on.
I liked the idea of a straight stitch machine that would be good for free motion quilting, and I do eventually want to get one. It will set me back about $1,000.00 when I do.
I decided that I was going to do a little more research on other Janome models and I came across the Janome New Home 720 on Amazon. This machine had ten reviews and every one of them was five stars. It is only 12 pounds. It is a 3/4 size machine. It got recommendations as an excellent machine to take on retreats and to guild meetings. And even though I do not have much interest in special stitches it would be nice to have a machine that can do a zigzag or make a buttonhole even if I eventually end up doing most of my sewing on a superior straight stitch workhorse. It would always be handy to tote along to retreats. It would be kind of like having a Featherweight that could do a little more than straight stitching.
What tipped the scale in favor of the 720 was the pricing of the Apple Watch. I am planning on getting the stainless steel Apple Watch with a Milanese Loop. It will cost me either $649.00 or $699.00 depending on whether I get the 38 mm or the 42 mm. So now is not the time to drop $1,000.00 on a sewing machine.
Though I have linked to Amazon so you can see the reviews, I bought my machine from Pocono Sew and Vac because Mark Lipinski recommends them.