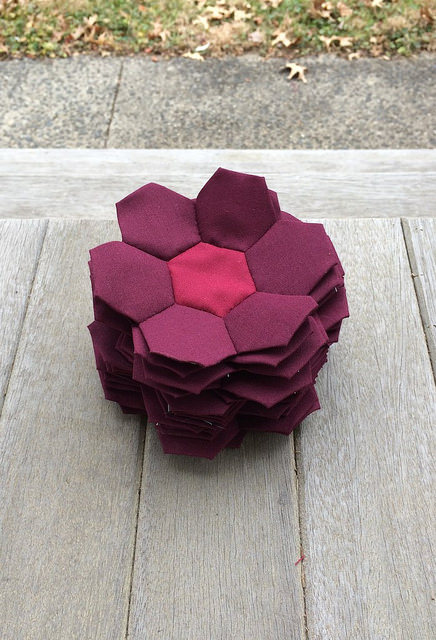 That looks like a lot of burgundy flowers. However, it is half of the flowers I need to create the next round of flowers on my burgundy border.
No one but someone who has actually attempted English Paper Piecing has any idea of how much work is represented by this pile. There is a great deal of basting and stitching here. I have reached a point in the creation of this quilt where it feels as if it will take forever to complete. The good feelings from reporting progress take longer to achieve because going around the edge takes more and more time. Thank goodness I enjoy the process.
However, at this point the work becomes boring and repetitive. The process seems slow even while putting in a number of hours in a day. It is times like these that I wonder what I will write about in my blog while I finish this quilt. I guess that means it is probably a good time to be working on something else while I do the grunt work on the final borders of this quilt top. At least I can think about what I would like to do for future projects and put some ideas out there.
My immediate goal is to add another twenty flowers to my pile for next week. I want to post a nice tall pile of forty flowers for next week. My goal for the following week is to attempt to attach all forty flowers as well as the connecting single hunter green hexagons that go between them.