Last week I blogged about beginning a new flower garden quilt and settling on a specific design for a flower.  I completed 21 flowers last week. This week I completed 13 more flowers for a total of 34 of these flower units.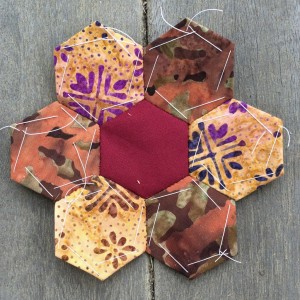 In addition to the completed flowers, I have sixteen more units basted, paired up, and ready to assemble.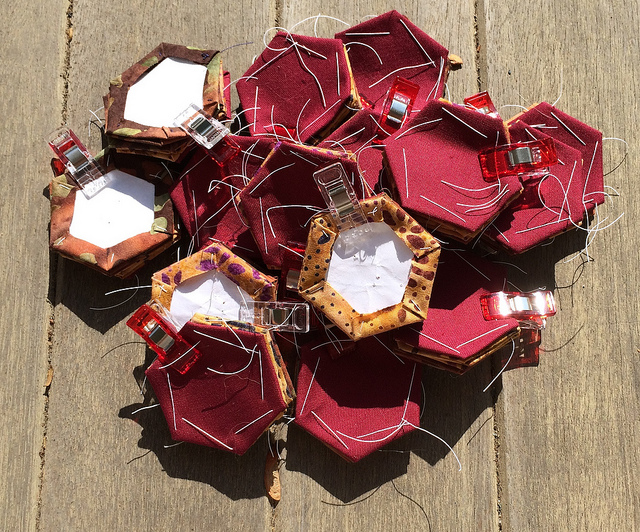 This will make a total of 50 flower units.  No matter how you look at it, 50 units is not enough for a quilt.  So I had to start thinking of how I was going to supplement those units to flesh out the design.
My first impulse was to reproduce the color and value of the unit, but in solids.  So I ordered some additional Kona solids.  I knew that I would need more of my maroon. However, I bought that maroon fabric from the Pennington Quilt Works, and I have no idea who made it.  It's definitely not a Kona solid.  I looked at my Kona sample card and found the closest thing I could find, which was Kona Crimson.  Given that this new fabric will form the center of solid flowers, it won't ever be right next to the maroon that is forming the center of the patterned flowers. There was no other color that even came close to the Crimson, so I ordered it with confidence.  I ordered a brown fabric, Kona Mocha to fill in for the brown batik. Since I already had a bit of it on hand from a previous project I was able to see that it would work well.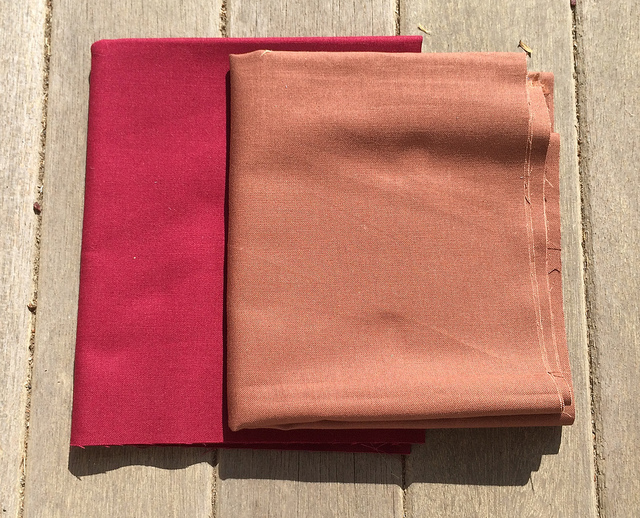 I learned from my recent experience in ordering Kona solids that it is hard to judge how a color is going to work from the small sample on the card. Filling in for the yellow-orange batik was not going to be so simple. There were a number of colors that might have worked, and I wanted the best one, so I ordered a range of four colors directly next to each other on the color chart. From left to right they are Ochre, Butterscotch, Yarrow, and Caramel.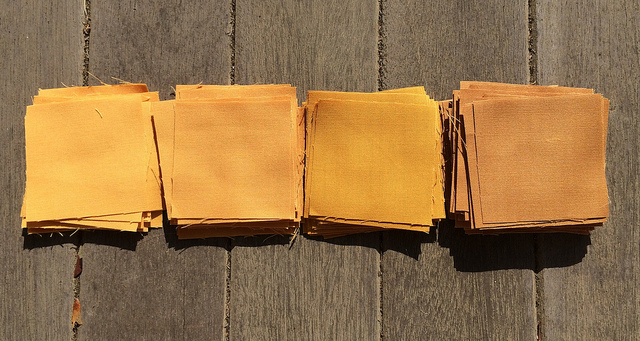 The Fat Quarter Color chips for these colors are shown below.

When I got these fabrics in my hands I was able to quickly see that Caramel was the clear winner. If I had allowed myself to only order one fabric I would have probably gone with butterscotch based on what I saw on the color chart. What I liked about the Caramel fabric though, is that it gave a better sense of the overall feeling of value and color of the batik fabric that it was meant to replace.  It even matched the intensity, which I hadn't realized was going to be important, but it turned out that it was very important to match the intensity. The caramel color was darned near perfect in every way.
I proceeded to piece together a flower using the solids of my choice, and I was happy with it. (Ignore the fabric to which the flower is attached. When I took my photos for this post I didn't have an isolated solid flower to photograph.)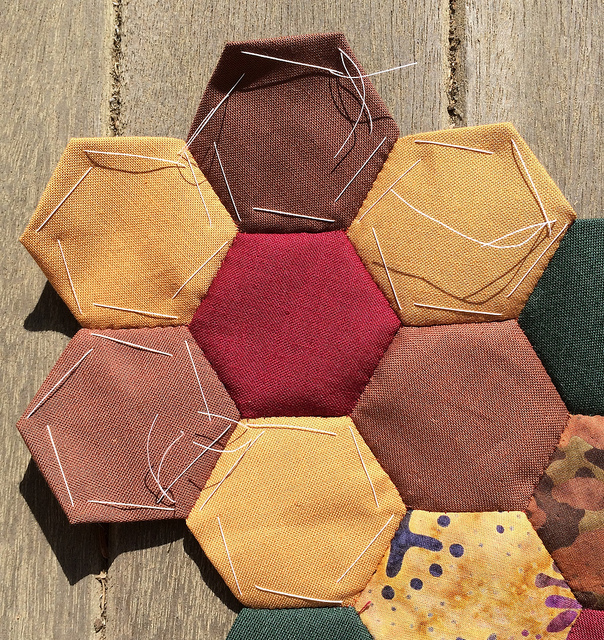 Of course, the fact that I really liked the solid flower I had just made didn't prevent me from trying out some other options.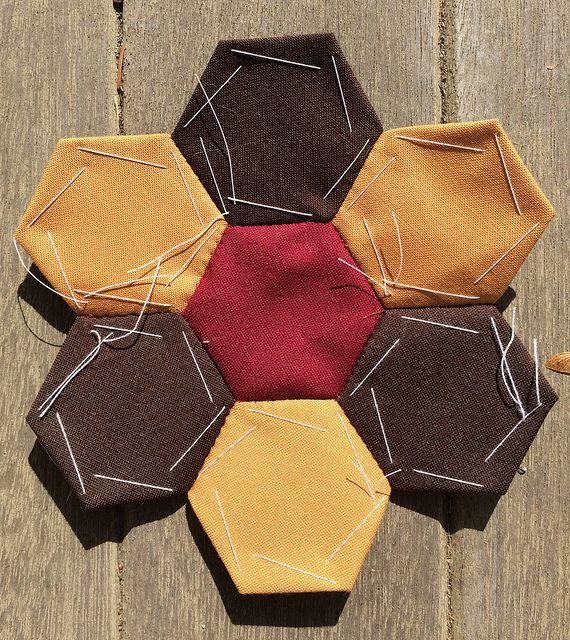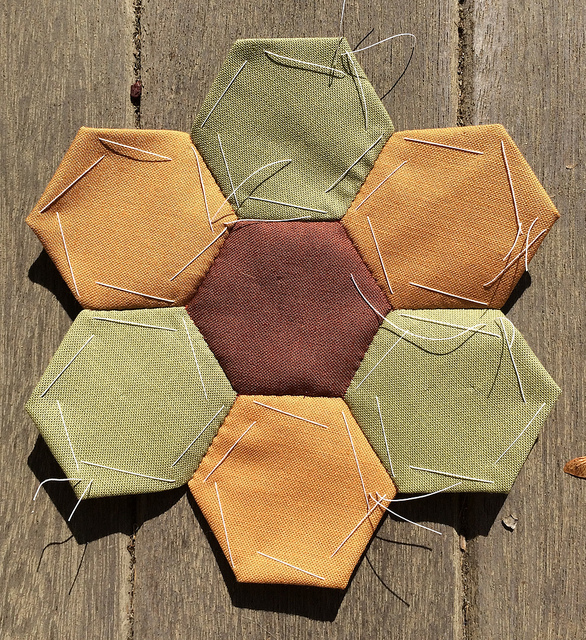 I auditioned these flowers up against my patterned flowers, but there was no contest. The first solid flower was the clear winner as I suspected it would be even before making the other two flowers.
It was my plan to finish piecing the patterned flowers and to make a large number of the solid flowers before starting to piece any units together.  The temptation to assemble, however, proved to be too great to resist. I started by joining four patterned flowers together with one solid flower using hunter green to hold it all together.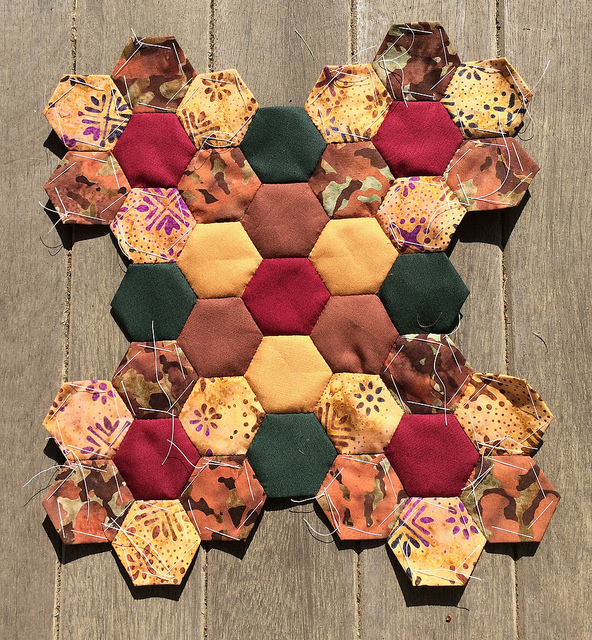 Then I tried joining four solid flowers with one patterned flower, once again with hunter green. I want the hunter green and maroon hexagons to predictably march across the finished quilt.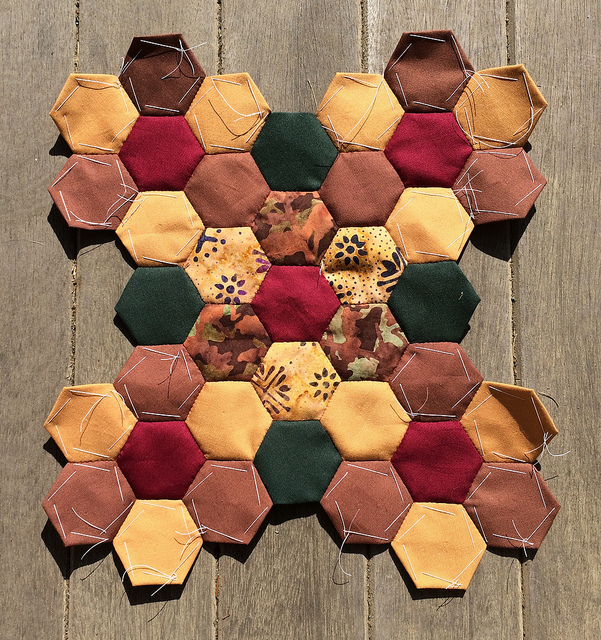 The idea I had in mind was that I might end up treating these constructions as large units that would be joined in some way. The photograph below shows the spacing that the units would take. You can probably see where two additional hunter green hexagons would go, and where another flower would fall into place.
I tried my hand at creating flowers that might work to tie the design together.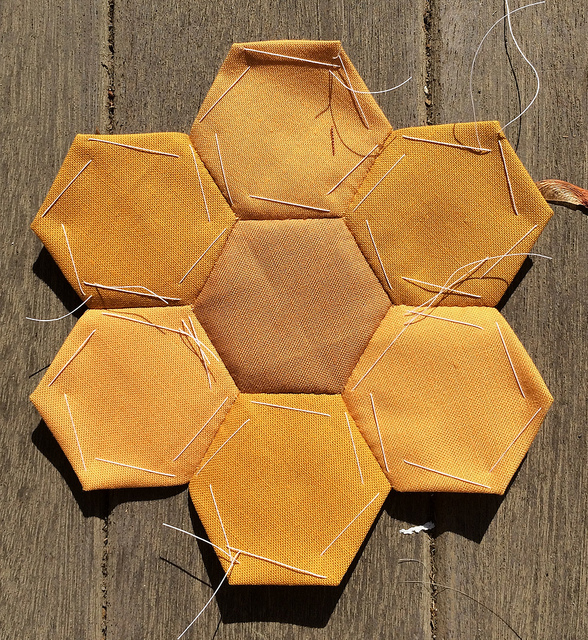 It may not be obvious, but the flower above has alternating petals of Butterscotch and Yarrow with a Caramel center.  Mmmmm… Sounds like candy.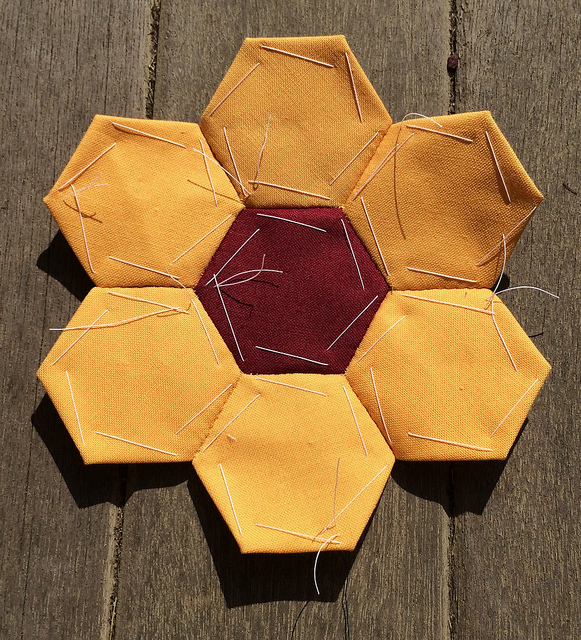 Above we have alternating petals of Ochre and Butterscotch with a Crimson center.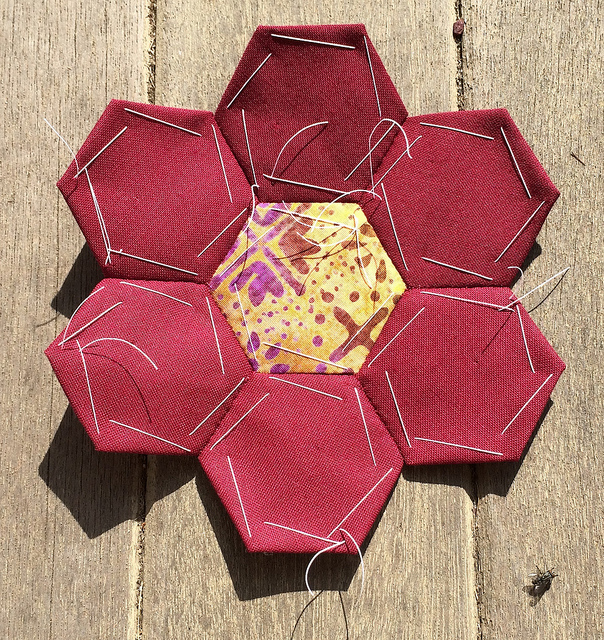 And last, we have a yellow-orange batik center with Crimson petals.
My gut feeling at this time, after having done all that work, is that I will probably line up the units to create rows of patterned and solid flowers.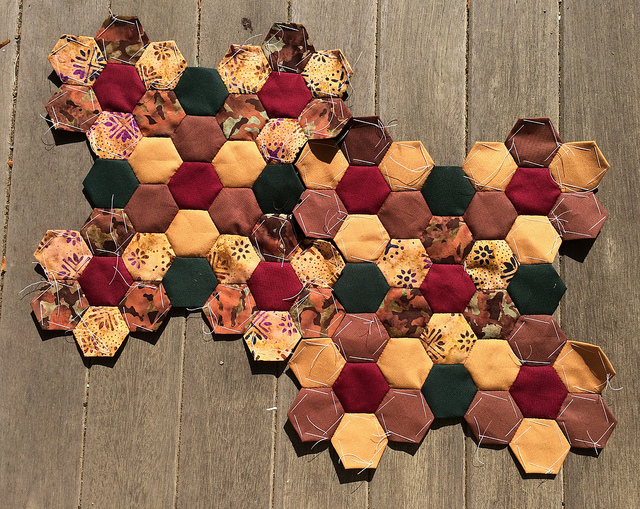 The beauty of working with hexagons, however, is that I can put off that decision until later. Any time spent auditioning flowers is time well spent because I can throw the rejects into a bowl and transform them into an interesting scrappy quilt at some point in the future.
I'll be spending my time this week basting solid hexagons for assembly. I'm planning a trip soon and want to have plenty to occupy my hands on the train, in the hotel lobby, and sitting through presentations.
I am linking back to Life Under Quilts as usual. If you visit over there you will see what Jessica has worked on this week, and you can also click the links at the bottom to see the work of the others who link back.